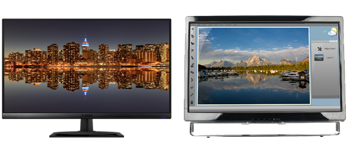 These ultra-performing, ultra-sleek 20-23" widescreen monitors are so bright and fast, they'll take your breath away. 
20-23" Flat Panel LCD and Displays and Monitors
When you want a sleeker way of looking at things, our Planar flat-panel LCD professional monitors will delight your eyes. We've put twenty five years of experience into developing our award-winning displays: the sharpest, fastest graphics; beautiful colors and all that in slim profiles that are nothing less than bevel-edge beautiful.
20-23" Touch Screen Monitors
Durable and dependable, Planar touch screens have what it takes to perform in demanding point-of-sale, point-of-purchase, and public access environments. We bring decades of rugged and extreme application experience to these touch screen monitors and computers, making them the most dependable and well-performing on the market.