The Next-Generation LCD Video Wall Solution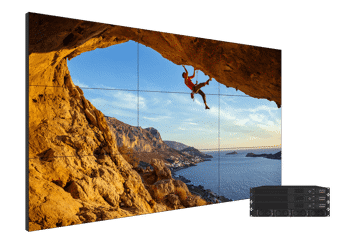 The Clarity® Matrix® G3 LCD Video Wall System evolves the superior performance and mission-critical reliability of previous versions of the Clarity® Matrix® LCD Video Wall System to deliver the ultimate LCD video wall solution. Building on the accomplishments of the award-winning Clarity Matrix architecture, Clarity Matrix G3 combines the industry's thinnest profile ultra-narrow bezel LCD with industry-leading improvements to video processing, installation, management and off-board electronics, delivering a next-generation video wall solution. Clarity Matrix G3 is available in standard (LX) and high (MX) brightness 46" and 55" models, along with options for protective Planar® ERO® (Extended Ruggedness and Optics™) technology, passive 3D and interactive multi-touch.
Ultimate Visual Performance
Clarity Matrix G3 boasts the industry's narrowest bezels, with tiled bezel widths as small as 1.7mm between adjacent LCD displays, for a nearly seamless video wall solution. Clarity Matrix G3 delivers no-compromise visual performance with superb image quality, perfectly aligned panels and ultra high resolution. It also includes the Planar® EasyAxis™ Mounting System, which provides an installed depth of just 3.6" (91mm) —the thinnest in the industry—for perfect panel-to-panel alignment. Clarity Matrix G3 is available with Planar ERO (Extended Ruggedness and Optics), an optically-bonded glass front that provides increased ruggedness and optical performance for public space or interactive touch applications.
Simplifying Installation, Service and Monitoring
With simplified installation and service, Clarity Matrix G3 ensures a high performance, cutting-edge video wall system at a lower total cost of ownership. New Leyard® WallDirector™ Software is designed to significantly reduce time spent configuring, operating and monitoring complex video walls. This intuitive web-based software tool features simple, one button presets for set-up and configuration, recalling windowing layouts, dragging and dropping sources on the video wall canvas and easy manipulation of the window size and position. Additionally, Leyard WallDirector software can capture the health status of all video wall components in a centralized, convenient location.
Advanced Video Wall Processing
Clarity Matrix G3 takes built-in video wall processing to a new level with the off-board Video Controller (VC), making it the first LCD video wall solution on the market to embed advanced video processing directly into the product. Improved Planar® Big Picture Plus™ Video Wall Processing delivers more extensive on-display and off-board video wall processing, and can scale sources across the entire video wall or any section of the video wall, including multiple 4K @ 60Hz signals. Using 4K quadview, combine content from a higher number of independent sources, superimpose a smaller image over a larger one with Picture-in-Picture (PiP) and incorporate up to four unique image sources within a single display. Clarity Matrix G3 supports the latest 4K connectivity standards, including both HDMI 2.0 and DisplayPort 1.2, offering customers flexibility when building their video infrastructure.
Designed for Mission-Critical Operations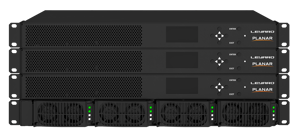 Clarity Matrix G3 features a unique off-board electronics design for maximum reliability and minimal downtime. With the Remote Power Supply (RPS), Clarity Matrix G3 takes its unique architecture and mission-critical design to a new level. The RPS features n+1 hot-swappable redundant power supplies, redundant AC input circuitry, reduced thermal stress and health as well as status monitoring capabilities.
In the event of failure, the video wall remains operational without disruption. For customers delivering highly sensitive information, the Clarity® Matrix® Fiber Video Extension option provides a more secure and longer distance option for extending video signals from Clarity Matrix electronics to displays.