A key component of the Planar's Clarity® Matrix® LCD Video Wall System is the Planar® EasyAxis™ Mounting System. Featuring six-axis adjustments for perfect alignment in any array and for all types of installations, the Planar EasyAxis Mounting Systems helps create stunning and precise tiled images and enables Clarity Matrix video walls to be the thinnest profile LCD video walls on the market, making it ideal for space-constrained public venue and control room environments.
Thin Profile
Planar understands the need for display solutions that can be installed without lengthy, expensive, and time-consuming building and design modifications. The Planar EasyAxis Mounting System allows Clarity Matrix LCD video wall displays to be closely installed to the wall surface, eliminating the need for a recessed wall. The Planar EasyAxis Mounting System supports landscape and portrait orientation, free-standing video wall deployment and flying video wall applications. When used in a wall-mount configuration, horizontal and vertical connection brackets ensure each mount is perfectly spaced from its neighbor in the video wall. Because the displays are self-supporting, Clarity Matrix video walls can support unlimited stacking height and lower displays are not damaged by the weight of display above.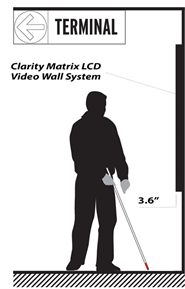 The combination of the Planar EasyAxis Mounting Systems and the Clarity Matrix LCD video wall display result in LCD video walls that measure a mere 3.6 inches (91.44 mm) in depth, screen-to-wall, as opposed to other designs that require 60% more clearance. As a result, the Clarity Matrix video wall has the thinnest footprint of any LCD video wall on the market today, making it compliant with the American's with Disabilities Act (ADA) requirement for protruding objects of less than four inches.
Precise Tile Alignment
The Planar EasyAxis Mounting System features adjustment cams that facilitate precise six-axis alignment ensuring uniform, minimized image-to-image gap for guaranteed perfect compatibility between the mount and video wall.
Simplified Service
For simplified service, the Planar EasyAxis Mounting System incorporates a service mode to accommodate front and rear in-wall repair of any Clarity Matrix LCD display in the video wall. When a display does need to be accessed or removed, this can be easily accomplished without the need to remove other displays within the video wall. Simply lift the display up and out to lock into Service Mode.