Infrared touch uses light emitting diodes and sensors that are embedded in a bezel around the display and emit and detect rows and columns of infrared light across the face of the display. This creates an invisible grid of infrared beams and on the opposite side of the display from the emitters, photodetectors or sensors identify touch when the plane of the grid is broken by a finger touch (or other solid object).  In other words, infrared touch screens operate on the basis of light-beam interruption, commonly referred to as beam break, to determine the location of touch events.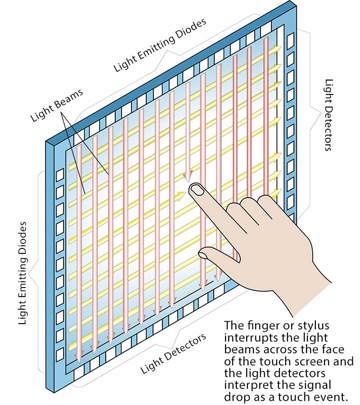 IR touch has a number of key technical and business benefits
Scales to larger displays economically which is why it is used so extensively for large panel displays and video walls
Supports multi-touch applications up to 32 touch points
Accurate with short response time
Smooth gesture recognition
Easy to create custom sized screens, like video walls up to 500" in diagonal
Monitor and touch overlay are discrete, allowing for field service
Performs in just about any indoor lighting environment (unlike many camera-based systems)
Does not interfere in any way with image quality as the sensor is around the periphery of the display and don't require patterned glass
Supports 4k resolution and high pixel density displays
Helps create thin, durable displays that don't require frequent calibration or pressure which can damage the display
Compatible with a finger, gloved finger, wet hand, stylus or pen
Read about other Touch Technologies in our
 Touch Technologies White Paper.