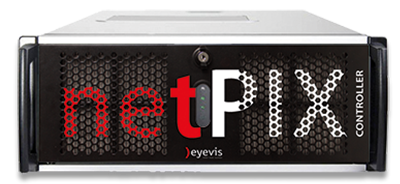 The eyevis™ netPIX-core™ Video Wall Controller is a network-based graphic controller for the management of video wall systems, single displays or projectors. Through its multi-screen capabilities, any display surfaces can be realized. The eyevis netPIX-core Video Wall Controller creates a large joined desktop for network applications, video and graphic sources. At the heart of eyevis netPIX-core is the powerful SBC, in combination with latest generation backplanes with Switch Fabric. The new eyevis netPIX-core offers an ultra-high performance bus, cost-effective INTEL CPUs, 64Bit technology and high bandwidth through a Switch Fabric bus. These latest technologies guarantee the revolutionary and powerful performance of the next-generation of the eyevis™ netPIX Series in any control room application.
The eyevis netPIX-core Controller provides multiple analog, digital video and graphic connectivity with input cards. With the latest Switch Fabric architecture, video and graphic sources can be displayed simultaneously on a video wall in full frame rates. All analog and digital Video-/RGB-/ DVI- and IP Streaming data is transmitted with up to 192 GB/s without any dependencies on the system.
Open-source, web-based eyevis™ eyeUNIFY Video Wall Management Software covers all the standard requirements of modern control room applications. It delivers safe operation across different platforms and operating systems while supporting a scalable number of user. eyevis eyeUNIFY is fully code-transparent, making it the most secure video wall management software and can be adapted for customer-specific requirements.