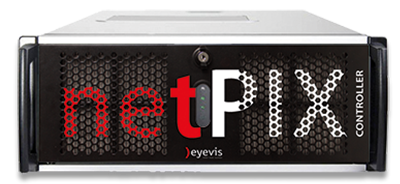 The eyevis™ netPIX-core™ Video Wall Controller is a network-based graphic controller for the management of video wall systems, single displays or projectors. Through its multi-screen capabilities, any display surfaces can be realized. The eyevis netPIX-core Video Wall Controller creates a large joined desktop for network applications, video and graphic sources. At the heart of eyevis netPIX-core is the powerful SBC, in combination with latest generation backplanes with Switch Fabric. The new eyevis netPIX-core offers an ultra-high performance bus, cost-effective INTEL CPUs, 64Bit technology and high bandwidth through a Switch Fabric bus. These latest technologies guarantee the revolutionary and powerful performance of the next-generation of the eyevis™ netPIX Series in any control room application.
The eyevis netPIX-core Controller provides multiple analog, digital video and graphic connectivity with input cards. With the latest Switch Fabric architecture, video and graphic sources can be displayed simultaneously on a video wall in full frame rates. All analog and digital Video-/RGB-/ DVI- and IP Streaming data is transmitted with up to 192 GB/s without any dependencies on the system.
Video Wall Management with eyevis eyeUNIFY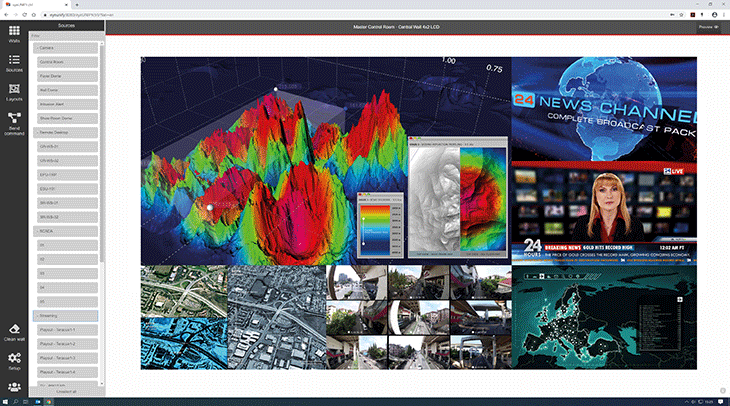 eyevis™ eyeUNIFY Video Wall Software provides complete management and visual information sharing in support of critical decision making across any organization. Compatible with nearly every visual data and video source, eyevis eyeUNIFY Software provides the freedom to capture, display and share visual information across the video wall, control room and the entire enterprise.
Used in conjunction with eyevis netPIX-core, eyevis eyeUNIFY Software runs on any operating system, including portable touch-devices. It provides a powerful, graphical interface through which an operator can control and monitor every aspect of the control room visual experience. eyevis eyeUNIFY Software scales to accommodate control rooms of any size and supports features critical to every leading control room application, including redundant architectures and clusters of hardware controllers.
Optimized for mission critical application, eyevis eyeUNIFY Software provides an extensive user and access right management with Lightweight Directory Access Protocol (LDAP) support, an advanced logging function and encrypted communications.