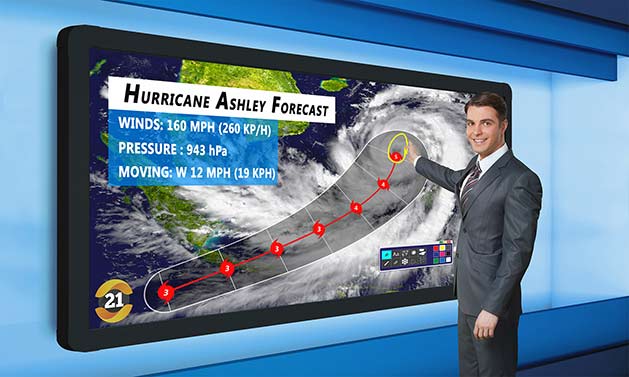 Planar to Showcase Latest in Display Technology for On-Air Broadcasters at IBC2017
The companies bring award-winning interactive LED technology to the media and entertainment industry
Planar, global leaders in visualization products, announced they will showcase the latest in display innovations at the 2017 International Broadcast Conference (IBC2017), including a first-of-its-kind seamless LED touch-enabled video wall that takes on-air broadcasting to the next level.
The new Planar® LED MultiTouch is the industry's first completely seamless interactive LED video wall. Available in 0.9 and 1.2 millimeter (mm) pixel pitches, this proprietary multi-touch solution revolutionizes interactivity for narrow pixel pitch LED video walls without the disadvantages of front glass—offering a seamless, smooth, lightweight and durable LED touch surface that delivers superior visual performance.
With the Planar LED MultiTouch, media and entertainment companies can add an interactive dimension to their broadcasts—making additional layers of information available with a simple touch of the video wall. The Planar LED MultiTouch recently received three of the broadcast industry's most prestigious technology honors at the 2017 National Association of Broadcasters Show in Las Vegas.
"From sports to election coverage, the Planar LED MultiTouch enables broadcasters to provide highly engaging content to their viewers—helping them quickly visualize the latest information as it unfolds," said Marco Bruines, CEO of Planar Europe. "The Planar LED MultiTouch is among several groundbreaking solutions we will showcase at IBC2017 that transform the media and entertainment experience."
Best-In-Class On-Air Broadcast Solutions
The No. 1 market share leader in narrow pixel pitch LED solutions according analysis by Futuresource Consulting's 2017 Video Wall Display Solutions Market Report, Planar offer a range of products with specific features for the broadcast market. Among the other best-in-class LED and LCD displays that Planar will display at IBC2017 are:
The Planar® TWS Series: A family of versatile ultra-fine pitch LED video wall displays that feature a convenient 27-inch diagonal size with an all-in-one design to fit a broad range of fine-pitch broadcast environments. The Planar TWS Series is lightweight and easy to handle, making it an attractive solution for a wide range of broadcast environments where curved, hanging or traditional video walls are required.
Planar® CarbonLight™ LED Displays: A family of uniquely lightweight, versatile, easyto- deploy LED displays constructed to meet a broad range of creative indoor and outdoor applications include hanging, free-standing and flooring installations.
The Clarity® Matrix® LCD Video Wall System with Extreme Narrow Bezel: A 46-inch or 55-inch LCD video wall system with the industry's smallest tiled bezel width of just 1.7 mm. Clarity Matrix sets the standard for LCD video wall installations with a unique architecture and award-winning features.
The Planar® UltraRes™ Series: A line of 75-inch, 86-inch and 98-inch Ultra HD resolution (3840 x 2160) professional LCD displays with best-in-class image and color quality for native 4K and upscaled content. With their exceptional 4K clarity and advanced processing, the Planar UltraRes Series displays are ideal for a wide variety of media and entertainment applications. Multi-touch models are also available.
Growing Adoption from Within the Broadcast Industry
In recent years, broadcasters from around the world have been turning to Planar video walls and interactive displays to design state-of-the-art studios for their viewers. Among those that have implemented Planar video wall technology are, RTL Télé Letzebuerg in Luxembourg, RTL Netherlands in the Netherlands, Canal+ Group in France and major broadcasters in the United States.
Visitors to IBC2017 will be able to view Planar innovations at Stand #11C40. Planar display solutions are available through the companies' global network of authorized resellers..