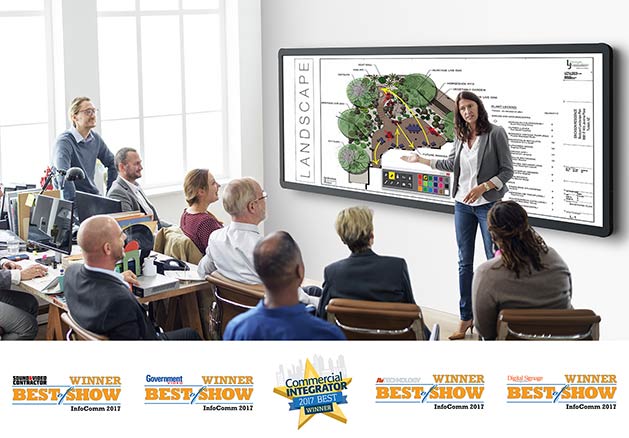 Leyard and Planar Win Seven Outstanding Product Awards at InfoComm 2017
Leyard MultiTouch LED Video Wall took home six awards from NewBay Media and Commercial Integrator awards, and System Contractor News honored Leyard DirectLight LED Video Wall System
Leyard and Planar, global leaders in visualization products, received seven commercial audio visual industry technology honors at the 2017 InfoComm show last week in Orlando, Fla. The Leyard® LED MultiTouch interactive LED video wall took home four Best of Show Awards from NewBay Media, presented by AV Technology, Digital Signage, Government Video Sound & Video Contractor and two Commercial Integrator 2017 Best awards in the "Video Wall" and "Collaboration" categories, and Leyard® DirectLight® LED Video Wall System was awarded Most Innovative Video Display from System Contractor News.
"It's an honor to be recognized by so many renowned commercial AV industry publications for our groundbreaking LED products: Leyard LED MultiTouch and the Leyard DirectLight LED Video Wall System," said Steve Seminario, vice president of product management at Leyard and Planar. "For more than 30 years, we have been committed to product innovation and accelerating the state-of-the-art in commercial display technologies and experiences."
The Leyard LED MultiTouch revolutionizes interactivity for narrow pixel pitch LED video walls without the disadvantages of front glass, providing a seamless, smooth, lightweight and durable LED touch surface that delivers superior visual performance enabled by the patent-pending Leyard® PLTS™ (Pliable LED Touch Surface™) technology. The next-generation Leyard DirectLight LED Video Wall System is a family of seamless, ultra-fine pitch LED video wall displays. Leyard DirectLight enables ultra-slim, front service installations and provides superior reliability features not before seen in the LED industry.
NewBay Media utilizes a panel of engineers and industry experts to evaluate and select the winners of its Best of Show Awards at InfoComm 2017. Honorees are selected based on innovation, feature-set, cost-efficiency and performance in serving the broadcast industry. The Commercial Integrator Best award recognizes products that demonstrate superior innovation, functionality, a competitive advantage and benefits for integrators. The System Contractor News Installation Product Awards honor the most innovative commercial AV products.
Leyard and Planar showcased their latest innovations at InfoComm 2017, the leading annual conference and expo for the commercial audio visual industry. Leyard and Planar display solutions are available through the companies' global network of authorized resellers.