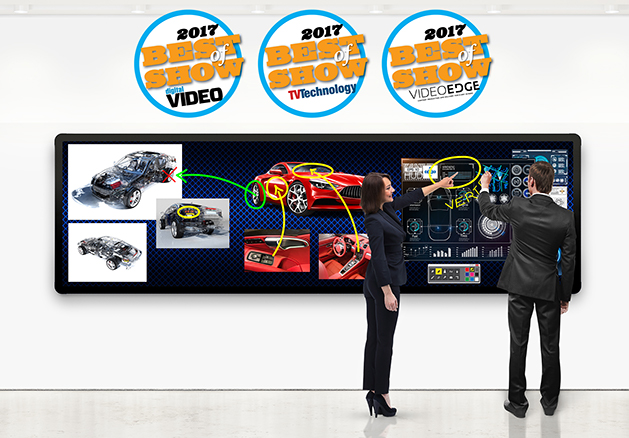 Leyard LED MultiTouch Video Wall Wins Three Best of Show Awards at NAB 2017
The global leader of fine pitch LED video walls won Best of Show Awards, presented by TV Technology, Video Edge and Digital Video
Leyard, a global leader in visualization products and Planar, a Leyard company and global leader in display and digital signage technology, received three of the broadcast industry's most prestigious technology honors at the 2017 National Association of Broadcasters Show (NAB) last week in Las Vegas. NewBay Media awarded the Leyard® LED MultiTouch interactive LED video wall its fourth annual Best of Show Awards, presented by TV Technology, Video Edge and Digital Video.
"Leyard is delighted to be recognized for its groundbreaking LED advancements. The response to our new Leyard LED MultiTouch interactive LED video wall has been incredible," said Steve Seminario, vice president of product marketing at Leyard and Planar. "As committed innovation leaders in the broadcast market, Leyard and Planar are focused on helping propel the state-of-the- art in media and entertainment display technologies."
TV Technology, Video Edge and Digital Video, all NewBay Media publications, honored the Leyard LED MultiTouch, the industry's first seamless LED touch-enabled video wall solution, with their respective Best of Show awards. Leyard LED MultiTouch revolutionizes interactivity for narrow pixel pitch LED video walls without the disadvantages of front glass—providing a seamless, smooth, lightweight and durable LED touch surface that delivers superior visual performance enabled by the patent-pending Leyard® PLTS™ (Pliable LED Touch Surface™) technology.
"The products nominated for the Best of Show program, now in its fourth year, provide an outstanding overview of new technology on the show floor and shine a spotlight on the very best," said Eric Trabb, NewBay Broadcast & Video Group Vice President & Group Publisher.
A panel of engineers and industry experts evaluate and select the winners of NewBay Media's Best of Show Awards at NAB 2017. Honorees are selected based on innovation, feature-set, cost-efficiency and performance in serving the broadcast industry.
NAB is the world's largest annual conference and expo for professionals who create, manage and distribute entertainment across all platforms, covering an array of advances in advertising, virtual reality and content creation.
Leyard and Planar showcased their latest innovations last week at NAB 2017. The Leyard LED MultiTouch is available through Leyard and Planar's global network of authorized resellers and is scheduled to ship in the third quarter of 2017.