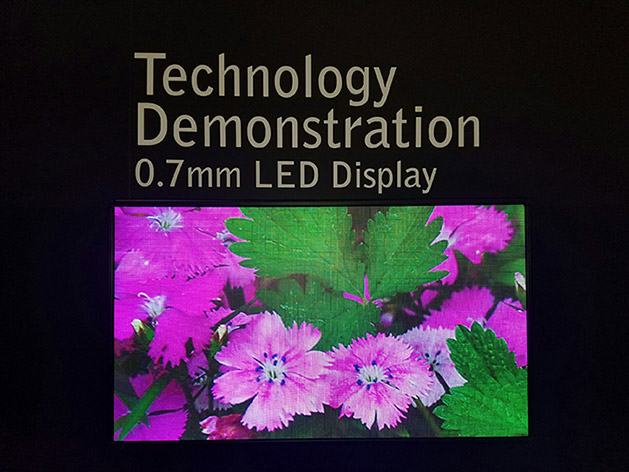 Market Leaders Leyard and Planar to Showcase the Latest in Fine Pitch LED Video Wall Technology at ISE 2017
Leyard's cutting-edge LED video walls join several groundbreaking display innovations that benefit the AV industry with seamless high resolution and more reliable designs, faster installations and greater energy efficiency
Leyard, a global leader in visualization products, and Planar, a Leyard company and global leader in display and digital signage technology, today announced they will showcase the latest in fine pitch LED video wall technology at Integrated Systems Europe (ISE) 2017, along with the industry's smallest tiled LCD bezel width and market leading ultra-high resolution 4K LCD displays.
The show will be the first ISE event at which Leyard and Planar products are featured in a single booth since the two companies merged a year-and-a-half ago. Leyard and Planar will showcase the latest in display technology at Stand #12-H85 at ISE 2017.
"We are proud to showcase our high quality LED and LCD portfolio of Leyard and Planar products to the European AV community," said Marco Bruines, CEO of Leyard Europe. "For Leyard and Planar, 2017 will be a year of expansion in the EMEA region with an increase in sales and marketing focus, together with our customer service organization."
Leading-Edge Fine Pitch LED Video Walls
For the first time at ISE 2017, Leyard and Planar will demonstrate the new Leyard® DirectLight® LED Video Wall System and Leyard® TWS Series of fine pitch LED video wall displays, including a technology demonstration of a groundbreaking 0.7 millimeter (mm) LED video wall display.
Newly launched, the Leyard DirectLight LED Video Wall System is a family of seamless, ultra-fine pitch LED video wall displays that allow for ultra-slim, front service installations in indoor environments, delivering industry-leading resolution and clarity, as well as provides reliability features not before seen in the LED industry. The displays are available in four fine pixel pitch models ranging from 0.9 to 1.8 mm, and come with an adjustable wall mount, full front service access and a remote power supply with optional redundancy.
The Leyard® TWS Series is a new family of lightweight and versatile fine pitch LED video wall displays available in 0.9, 1.2, 1.5 and 1.8 mm pixel pitches. The 27-inch Leyard TWS Series features is light weight and easy to handle, offering an attractive solution for faceted curved video walls, hanging video walls and standard video wall environments that require a compact, fine pixel pitch solution.
A groundbreaking 27-inch 0.7 mm pixel pitch LED video wall display also be featured in the Leyard and Planar booth demonstrating Leyard's market leadership in fine pitch LED technology. The 0.7 mm LED display will also be featured in the Lang AG booth (Stand #1- H60), a leading seller of visual presentation equipment and peripherals in Europe.
"The LED market in the AV industry is rising steadily. With the brand LANG LED WORLDS we provide a wide variety of services especially for fine pitch LED," said Tobias Lang, CEO of Lang AG. "Leyard is leading the way in fine pitch LED technology and is the ideal partner for us. The latest example of Leyard's innovative LED leadership is a demonstration of 0.7 millimeter LED display at our booth at ISE 2017."
A Growing Portfolio of Fine Pitch LED Products
The Leyard DirectLight LED Video Wall System and Leyard TWS Series joins Leyard's growing portfolio of fine pitch LED displays designed to meet the needs of nearly any LED video wall customer. Other LED solutions that will be displayed at ISE 2017 include:
The Leyard® TWA Series, a family of flat panel LED video wall displays, which delivers the pixel density and form-factor similar to LCD and rear projection video walls, but with a truly seamless image that can be configured to nearly any size. Available in 0.9, 1.2, 1.4, 1.8 and 2.5 mm pitches, the unique 54-inch flat panel display offers superior image quality and 24x7 mission-critical reliability, along with one of the industry's most energy-efficient LED video wall designs.
The Leyard® TVH Series, a line of high performance, fine pitch LED video walls available in 1.6, 1.9 and 2.5 millimeter pixel pitches. The Leyard TVH Series delivers industry-leading image quality and features an advanced design, offering high reliability for a range of demanding indoor applications.
The Leyard® CarbonLight™ LED Displays, a family of flexible, lightweight displays constructed to meet a broad range of creative indoor and outdoor applications. Leyard CarbonLight LED displays are uniquely lightweight, thin, strong and adaptable—making them ideal for high-impact events served by rental and staging companies, and for fixed and semi-fixed installations with unique design requirements.
Best-in-Class LCD Displays
In addition to showcasing their breakthrough LED video walls, Leyard and Planar will display several leading-edge LCD display lines at ISE 2017, including:
The Clarity® Matrix® LCD Video Wall System, featuring extreme narrow bezel models with the industry's smallest tiled bezel width of just 1.7 millimeters, and narrow bezel models with a 3.7 mm tiled bezel width. Available in 46-inch or 55-inch sizes, the Clarity Matrix LCD Video Wall System sets the standard for LCD video wall installations with a unique architecture and award-winning features.
The new Planar® QE Series, a line of 75-inch, 86-inch and 98-inch Ultra HD resolution LCD displays that provide an end-to-end solution for designing, distributing and playing back ultra-high resolution content, dramatically reducing installation cost and complexity. Available with optional multi-touch, the Planar QE Series is ideal for applications ranging from digital signage to collaborative meeting spaces.
The next-generation Planar® UltraRes™ Series and Planar® EP Series of high-performance 4K LCD displays, which offer best-in-class reliability, interactive multi-touch models, as well as stunning image and color quality.
Leyard and Planar display solutions are available through the company's global network of authorized resellers. See the latest in display technology at Stand #12-H85 at ISE 2017.