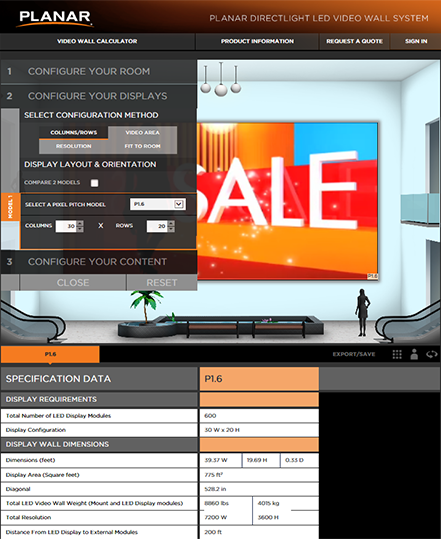 Planar Launches DirectLight LED Video Wall Calculator
The Planar® DirectLight™ LED Video Wall Calculator is a free, online tool that simplifies the video wall selection process by helping customers visualize and plan for their LED video wall installations even before they make their purchase.
The unique Planar DirectLight LED Video Wall Calculator allows customers considering the seamless Planar® DirectLight™ LED Video Wall System to realistically preview implementations of the solution in a variety of indoor environments including public venues, corporate lobbies, conference rooms, retail settings, and control rooms. By allowing customers to visualize their designs complete with custom content and technical specification data in advance of their purchase, the Planar DirectLight Calculator ensures the success of every project by taking the guess work out of video wall planning.
"The new Planar DirectLight LED Video Wall Calculator joins an outstanding collection of online tools from Planar, allowing for the free and easy visualization of video walls that's second to none," said Jennifer Davis, vice president of marketing and product strategy at Planar Systems. "These tools help resellers to speed up the sales process and designers and architects to complete their work more efficiently—demonstrating our ongoing commitment to excellence."
Streamlining LED Video Wall Installations
Built for Planar DirectLight LED Video Walls, the intuitive Planar DirectLight LED Video Wall Calculator offers an attractive user interface with advanced room customization features. The online tool is easy to navigate, allowing customers to design video walls with greater ease, speed and accuracy. Using the Planar DirectLight Calculator, customers can compare different display models and configurations side-by-side in the same environment, allowing them to determine what designs might look best in their unique environment. They can upload and preview their own video wall content as well as obtain detailed project renderings and specifications requirements that can be shared with colleagues and prospective customers. They can also submit automatic requests for price quotations to Planar, speeding up the purchasing process.
"The new Planar DirectLight LED Video Wall Calculator helps us to quickly compare video walls and make recommendations to clients, saving us hours in design and analysis," said Alan Jackson, sales engineer for Pro Sound & Video. "Our clients love it because it allows them to see their video wall in advance of their purchase, and we love it because it expedites the design and sale process."
A Robust Tool with Advanced Capabilities
The Planar DirectLight LED Video Wall Calculator is a complete and advanced tool that enables customers to preview finished video wall installations while obtaining a comprehensive set of information that facilitates their purchasing decisions. Within minutes, users can:  
Configure a room - Using the Planar DirectLight Calculator, users can define the size of their room, choose one of several room environments and select their wall color.
Create a graphical rendering of their video wall - Customers can choose a specific model and enter their desired display configuration, choosing from a variety of popular configurations like Full HD and 4K resolutions, or defining any other configuration. They can then save the rendering for inclusion in a project proposal.
Configure custom content - Customers can upload their own image or video or select from a pre-set list of content options to preview what the video wall will look like.
Compare models and configurations - Users can see a side-by-side comparison of specification data, allowing them to compare two models or compare video wall configurations.
Determine the architectural impact of their video wall - The Planar DirectLight Calculator calculates the physical dimensions, weight and power consumption for the entire video wall system.
Export their results - Users can generate a PDF summary of their LED video wall configurations complete with images and specification data.
The Planar DirectLight LED Video Wall System is a family of seamless, ultra-fine pitch direct view LED video walls that combine a proprietary, advanced design across a choice of four resolutions ranging from 1.6 to 3.1 millimeter pitch, providing exceptional visual performance, thin mounting depth, precise alignment, mission-critical reliability and adaptability to different customer uses.
Customers can access the Planar DirectLight LED Video Wall Calculator from a range of devices including PCs, smartphones and tablets—without any software installation. To use the tool, please visit http://DirectLightCalculator.planar.com or watch a video demonstration of the calculator on Planar's You Tube channel.