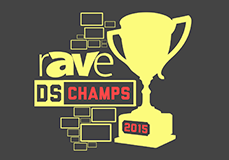 Planar Systems Honored with Best New Indoor Display for Digital Signage Expo 2015
Following a successful Digital Signage Expo 2015 in Las Vegas, Planar Systems is pleased to announce the newly unveiled Planar® DirectLight™ LED Video Wall System was named Best New Indoor Display by rAVe Publications.
On March 18, rAVe announced their selection of 2015 Digital Signage Champs, recognizing the best products on display at this year's Digital Signage Expo.  Planar is listed alongside 19 other finalists also recognized for outstanding digital signage products.
Introduced on March 9, the Planar DirectLight LED Video Wall System is a family of seamless, ultra-fine pitch direct view LED video walls that provide a superior visual experience, and 24x7 reliability tailored to any unique indoor environment. Planar DirectLight LED video walls are available in four narrow pixel pitches, providing resolutions ranging from 1.6 to 3.1 millimeters. The Planar DirectLight LED Video Wall System will begin shipping in summer 2015 through the company's global network of authorized resellers.