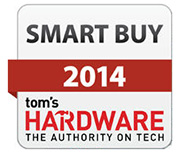 Planar IX2850 Wins Tom's Hardware Smart Buy Award
Planar is pleased to announce that a positive review of the Planar® IX2850, a 28" 4K desktop monitor, was published by Tom's Hardware, a leading IT online publication with 27.5 million unique visitors. In the review, titled Excellent 4K at an Excellent Price the Planar IX2850 was thoroughly tested against competitive 4K models, including the NEC EA244UHD (24-inch), Dell P2815Q (28-inch), Asus PB287Q (28-inch), Dell UP2414Q (24-inch) and Sharp PN-K321 (32-inch). Author Christian Eberle, provides readers with a thorough 8-page review of the product, outlining the editorial team's findings, and ultimately, awards the Planar IX285 monitor with a Tom's Hardware Smart Buy Award.
Features and attributes of the Planar IX2850 highlighted in the review included the monitor's FlexFour™ Software that allows up to four sources to be viewed, sized and moved independently on the same monitor. Eberle wrote "It's pretty cool to see and with the extra pixel density available, the images are tack-sharp." He highlights in his review that the Planar IX2850  is the only 4K monitor he knows of that can handle four sources.
The PlanarIX2850 was also recently featured in a product review in PC Magazine. Editor John Delaney posted a Planar IX2850 review in which Planar joins manufacturers such as Philips, Acer and Lenovo in offering a 28-inch Ultra HD monitors below $1,000. In this review, Delaney writes "The Planar IX2850 is a solid 28-inch 4K monitor that delivers a sharp high-resolution image and is equipped with all the I/O connections you'll need."
The 28" Planar IX2850  features native 4K resolution (3840 x 2160), delivering an immersive Ultra HD experience for the desktop and brings life to still images and video. The Planar IX2850 provides a turn-key solution for applications requiring simultaneous, multi-source viewing of critical visual information up to 4K in resolution. 
Read the full Tom's Hardware Review