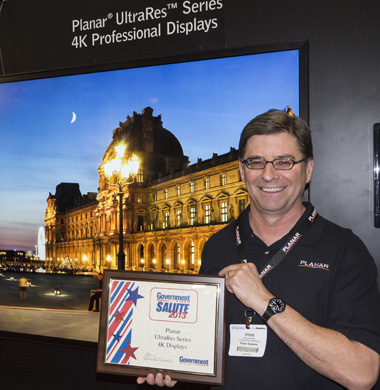 Planar UltraRes Honored with Two Prestigious Industry Awards

Planar Systems has been honored with two additional industry awards for its Planar® UltraRes™ Series 84" 4K display. At the GovComm Conference held in Washington D.C. in December, Government Video awarded Planar UltraRes Series the "Government Video SALUTE." The award honors state-of-the art technology, products and services that enable the advancement of video technology. A panel of judges consisting of Government Video staff and contributors scoured the showroom floor and chose the winners based on their technical applications and overall contribution to the industry. "Clear and colorful, the Planar UltraRes displays were a magnet for people on the floor of GV Expo 2013," wrote Government Video. Award-winning products will be featured in the January issue of Government Video Magazine.  View the full list of winners.

Planar UltraRes Series was also named one of the 30 most Innovative Products of 2013 by Sound and Video Contractor for its bold and creative engineering. They determined innovation could be defined as anything from years of R&D to a stroke of inspiration, and they acknowledged both mechanical innovations and electronic ones. This year, voting was opened to readers of Sound & Video Contractor for the first time. Thousands of votes were cast to choose the most innovative from among more than 60 submitted products.