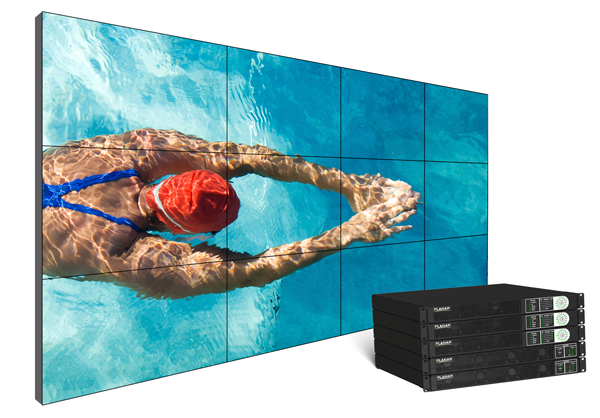 Planar Announces Next Generation Clarity Matrix LCD Video Wall System
New G2 Architecture combines the thinnest ultra-narrow LCD in the industry with best visual performance, easiest installation and 24x7 reliability
Today Planar introduced the next-generation Clarity® Matrix™ LCD Video Wall System with G2 Architecture, delivering a new level of visual performance for Planar's award-winning family of LCD video wall solutions.
The Clarity Matrix with G2 Architecture combines the industry's thinnest profile ultra-narrow bezel LED LCD video wall with improvements in design, installation and service, further delivering on its reputation as the best-in-class video wall solution. In addition, a new 55" Clarity Matrix model sets a new benchmark with a tiled bezel width as small as 3.7 mm (0.15 inches), stunning image quality, simplified installation and maintenance, and 24x7 mission-critical reliability.
"The next generation Clarity Matrix builds on the accomplishments of the award-winning Planar Clarity Matrix family of video walls, which has gained significant market adoption," said Planar CEO and President Gerry Perkel. "We are taking the key elements that everyone loved about Clarity Matrix, making them even better, and combining them into a next-generation product that meets the needs of today and tomorrow."  
Designed for the Highest Visual Performance
The Clarity Matrix with G2 Architecture delivers no-compromise visual performance with superb image quality, perfectly aligned panels and ultra high resolution. It boasts the industry's narrowest bezels with a tiled bezel width as small as 3.7mm (0.15 inches) between adjacent LCD screens. It also comes with Planar's EasyAxis™ Mounting System, which provides an installed depth of just 3.6" (91mm) —the thinnest in the industry—for perfect panel-to-panel alignment. This thin depth makes the Clarity Matrix with G2 Architecture compliant with the Americans with Disabilities (ADA) requirement for protruding objects of less than 4 inches.
The Clarity Matrix with G2 Architecture also provides outstanding image quality with stunning 4K ultra high definition (UHD) input capability and 10-bit color processing.  Planar's Big Picture Plus processing is built into the system, allowing content to be scaled across the entire video wall or sections of the video wall.
Built for Simple Installation and Service
The simplified installation and service of the Clarity Matrix with G2 Architecture enables A/V resellers and system integrators to offer their customers a high performance, cutting-edge video wall system at a lower total-cost-of-ownership.
"Over the last four years, we have deployed hundreds of Clarity Matrix video wall displays that have simplified our installations while providing the very best performance," said Stephen Sullivan, senior vice president of Constant Technologies, Inc., an A/V integrator based in Rhode Island. "Planar is a valued display partner, and the next generation Clarity Matrix architecture will allow us to continue our success in deploying best-in-class LCD video walls."
With built-in video extension of up to 330 feet (100 meters), Clarity Matrix with G2 Architecture offers unprecedented installation flexibility while eliminating the cost and reliability concerns of using third-party cable extenders. Like the previous generation Clarity Matrix, no AC power outlets are required behind the displays, and a single power supply module can now drive as many as eight displays, reducing the rack space requirement in half and further reducing the number of power outlets required.
For simplified maintenance, the Clarity Matrix with G2 Architecture features off-board electronics architecture, reducing maintenance time and complexity with easy-to-access source input and control. The Clarity Matrix with G2 Architecture integrates Planar's WallNet™ software, making it possible to monitor display performance and troubleshoot issues remotely – even in environments using simple network management protocol (SNMP)-based enterprise device management.
Engineered for 24/7 Reliability
The Clarity Matrix with G2 Architecture provides 24x7 reliability for the most mission-critical environments including utility, traffic management, military, and law enforcement control rooms. With a 25 percent reduction in heat produced from off-board electronics and power supplies, the Clarity Matrix with G2 Architecture exceeds performance and lifetime expectations even in the most demanding environments. The redundant power supply module provides continuous operation even in the event of a power failure.
The Clarity Matrix with G2 Architecture is available through Planar's global network of authorized resellers and will begin shipping this quarter. Visit Planar's YouTube channel to watch a video about Clarity Matrix with G2 Architecture. Or, see Clarity Matrix with G2 Architecture in action at Integrated Systems Europe (Stand #3-A80) or the Digital Signage Expo (Booth #405).