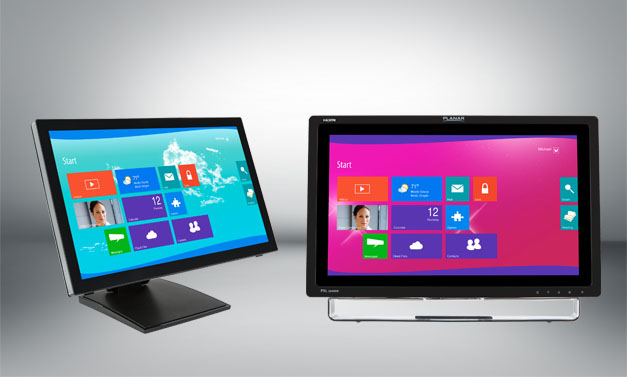 Planar Announces Expansion of Multi-Touch Desktop Monitor Line
Planar Systems is pleased to introduce the addition of two new 22-inch monitors to its existing line of multi-touch desktop monitors, bringing the ease and convenience of multi-tasking to the desktop when it is at its highest demand.  The Planar PCT2265 and Planar PXL2240MW join Planar's 24 and 27-inch Planar® Helium™ Series monitors, to provide a comprehensive line of multi-touch monitors.  The expansion stems from today's high demand of desktops with touch-enabled features, sparked by both the previous launch of Microsoft Windows® 8 and the impending release of the Microsoft Windows® 8.1 upgrade coming October, 2013.
Specifically designed to take advantage of Microsoft Windows® 8's touch-enabled features, the Planar PCT2265 22-inch full HD monitor is optimized with multi-touch interactivity and registers up to 10 simultaneous touches for the utmost productivity.  The monitor's quick docking, large viewing experience, built-in 3.0 USB hub and chic design with edge-to-edge glass surface make the Planar PCT2265 well-suited for software developers and designers and corporate business users alike.    
Ideal for gaming and, video and picture editing, the Planar PXL2240MW 22-inch full HD monitor, like the Planar PCT2265, is intended to utilize the touch-enable features showcased in Microsoft Windows® 8 and registers up to 5 simultaneous touches.  The Planar PXL2240MW's design offers something for everyone.  The model's integrated speakers present a selection of input options for flexible monitor setup and the sleek, space-saving design make it the perfect addition to any space.  
"With the proliferation of smartphones and tablets people have come to expect a touch experience when interacting with digital devices.  The launch of Windows® 8 and its touch-friendly features now delivers that experience to the PC and the desktop," said Cris Derr product marketing director at Planar.
The Planar PCT2265 and Planar PXL2240MW 22-inch monitors come standard with Planar's industry-leading CustomerFirst™ 3-Year Warranty, including 2-day advance replacement.