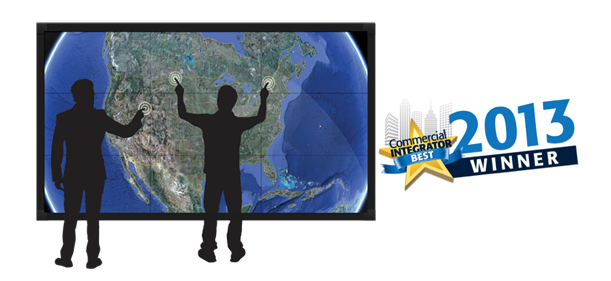 Clarity Matrix MultiTouch Video Wall Wins Prestigious Commercial Integrator BEST Award at InfoComm 2013
Planar's Clarity® Matrix™ MultiTouch Video Wall has earned a Commercial Integrator BEST award in the Video Wall Solution category based on innovation, functionality, competitive advantages, and benefits to commercial integrators.  A panel of industry experts, integrators and editors from Commercial Integrator, a publication dedicated to addressing the business needs of professional integrators, chose the winners and made the announcement at InfoComm 2013.
 The Clarity Matrix MultiTouch is a highly accurate touch screen video wall that provides a powerful, but easy-to-use platform to help users better interact, communicate and collaborate.  Utilizing the latest touch technology, Clarity Matrix MultiTouch enables up to 32 touch points and allows multiple users to simultaneously interact with video wall without affecting other users.  The modular design of Clarity Matrix MultiTouch with Planar's ERO™ technology (Extended Ruggedness and Optics™) provides a continuous touch surface while ensuring ease of installation and serviceability. Available in 46" and 55" LCD display sizes, Clarity Matrix MultiTouch features Planar's EasyAxis™ Mounting System and off-board electronics design, making it the slimmest and most reliable interactive LCD video wall available.
Planar displayed the award-winning Clarity Matrix MultiTouch at InfoComm 2013. To read more information about the Commercial Integrator Best Awards, visit  http://www.commercialintegrator.com/guide/product/winners
Planar Recognizes Top Partners at InfoComm
To celebrate our partnership success, Planar hosted a Reseller Reception at InfoComm 2013, awarding the top performing proAV Planar Reseller partners of 2012.

The following organizations are recipients of the 2012 Planar Partner of the Year Award.
U.S. and Canada
International
Congratulations to the winners! Planar would like to thank you for your commitment and achievements during the past year.