Planar Selected for Art Installation at Storefront's 30th Anniversary Gala
Storefront for Art and Architecture celebrated its 30th anniversary on March 1st with a gala and silent auction at 5 Beekman Street in New York City prior to the planned restoration that will transform it to a luxury hotel property in the coming months.

Storefront selected Planar displays, Clarity® Matrix™ LCD flat panels, and placed them on the ground facing up towards the towering 9-story atrium. They were spaced out amidst a paper art installation and running a loop of imagery. It was visible from a walking path on the ground floor and also from balcony views from the 9th floor, where the party was held. Coming off the successful exhibition at the Storefront's main location in the NoHo neighborhood, envisioned by Leong Leong using a Clarity Matrix video wall, Storefront was now familiar with what Planar can do. Their innovative use of display cutting-edge technology stands in juxtaposition to the rawness and weathered-look of the once-opulent space and looked spectacular.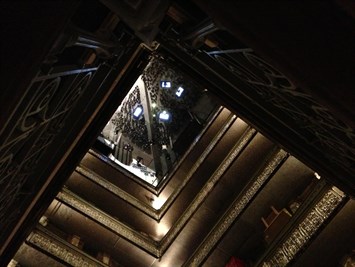 View looking down from the balcony of the 9th floor, with the bright Clarity Matrix displays glowing from the ground floor.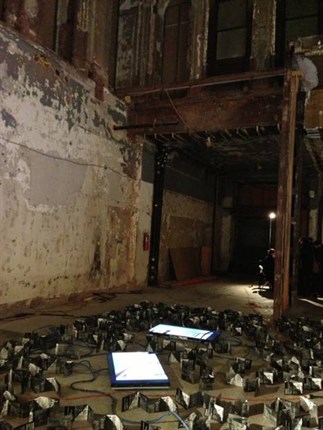 Four Clarity Matrix display were installed at 5 Beekman for the Storefront for Art + Architecture 30th Anniversary Gala. The property is slated for renovation, but guests were treated to a rare chance to experience the building in its raw intimacy prior to construction. The Clarity Matrix displays were placed in a collage pattern among a paper art installation made up of the program and invitation for the night's festivities.