Planar Honored with Best New Product Awards at Digital Signage Expo 2013
Planar Mosaic and Planar UltraLux Series are recognized by Signage Solutions Magazine and Digital Signage Magazine
Planar® Mosaic™ and Planar® UltraLux™ Series were both named Signage Solutions Magazine's 2012 Products of the Year. Planar Mosaic was also named Digital Signage Magazine's 2013 DIGI Award Winner for Best Product, Innovation in Displays.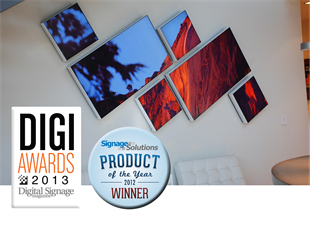 Signage Solutions Magazine 2012 Products of the Year awards, announced January 14, recognize the most outstanding product development achievements of manufacturers whose products are considered exceptional in the advancement and development of the digital signage industry. The 2013 DIGI Awards, announced February 21, are administered by NewBay Media's Digital Signage Magazine, recognizing companies who have gone the extra mile to ensure success for their clients and furthering the digital signage industry as a whole.
"It is an honor to be recognized for our innovation and leadership in digital signage display technology," said Jennifer Davis, vice president of marketing at Planar Systems. "To have Planar Mosaic and Planar UltraLux Series recognized by these respected industry publications echoes feedback we are hearing from resellers and customers who are implementing unique, eye-catching and effective digital signage installations."
Introduced in February 2012, Planar Mosaic architectural video walls redefine interior spaces and feature three different size LCD display tiles, including a truly square 22" tile. Utilizing proprietary Mosaic Ensemble ™ software and hardware, Planar Mosaic tiles can be rotated at virtually any angle and mounted in any position, providing endless design possibilities.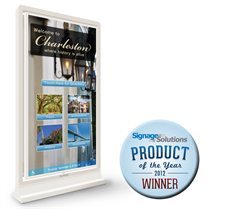 The Planar UltraLux Series was introduced in June 2012 and is the industry's first family of 70" and 80" LCD displays that feature a unique edge-to-edge glass design. Planar UltraLux Series displays are available in multiple configurations, including portrait or landscape, wall-mount or free-standing and black or white color options, providing customers a wide range of display options for their application.
Planar Mosaic and Planar UltraLux Series displays are available through Planar's global network of authorized resellers.