Coverage in Commercial Integrator Magazine
The Clarity® Matrix™ 3D CAVE2 installation at University of Illinois Chicago received terrific coverage in Commercial Integrator Magazine.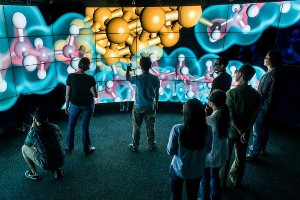 The review includes quotes saying, "After courting flat panel manufacturers, EVL was won over by Planar even though at first "we knew little about them," Leigh says, but "they had developed some cool 3D visualization hardware." The article also states that the CAVE2 project created a competitive edge for the University and is "ambitious technology."

The coverage included compliments on the design of the EasyAxis mount, with the customer commenting, "Planar's EasyAxis™ feature on the Clarity Matrix flat panels, which makes it easy to access the panels for service or maintenance, probably contributed to the glitch-free installation."

The article uses phrases such as "that the installation went so smoothly is remarkable," and "the CAVE2 environment is a gold standard for how video can be implemented and used to improve critical research and work," is a fantastic outcome.

This coverage will also appear in the April print edition of Commercial Integration Magazine.