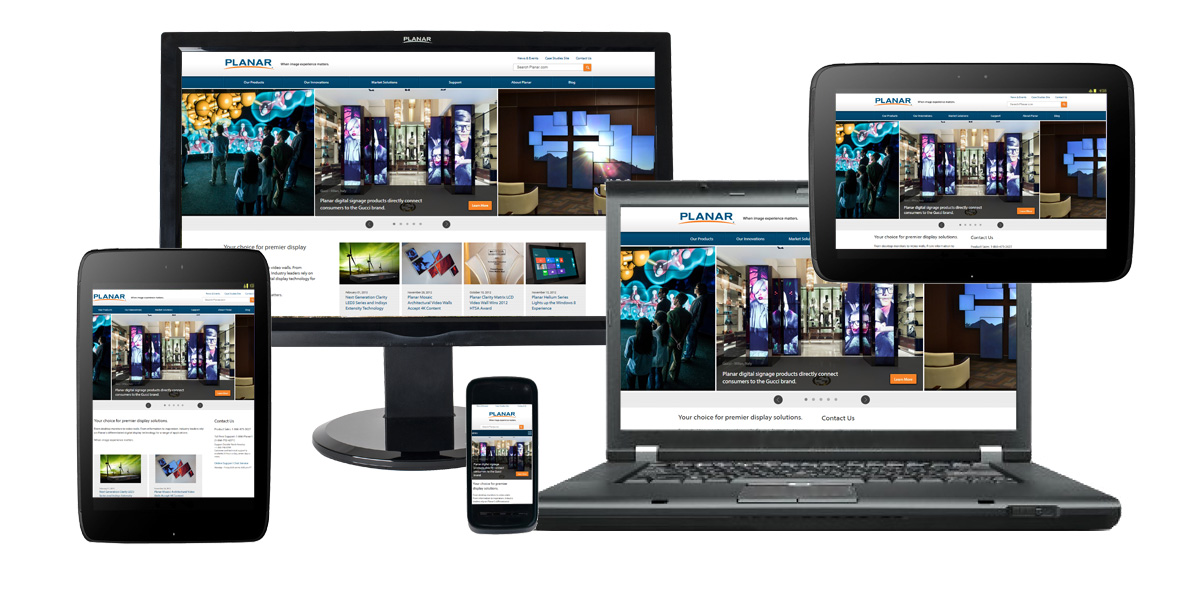 Planar Unveils New Website Optimized for Wide-Screen Desktops, Touch and Mobile Devices
From a tablet or mobile device to large-scale touch displays, Planar.com delivers information and inspiration from a global leader of display solutions
PORTLAND, February 20, 2013 – Today, Planar Systems, Inc. (NASDAQ: PLNR), a global leader in digital display technology, announced a completely redesigned website [http://www.planar.com] engineered to provide responsive web design techniques for anytime, anywhere accessibility. The newly launched website is optimized for any commercially available display, making the site experience compatible with even large format displays or video walls.

The fully touch-enabled Planar.com website has been redesigned using responsive web design techniques, providing optimal user experience across varying screen sizes and orientations including desktop monitors, handheld devices, smart phones, tablets and touch-enabled large format digital signage displays.
"This new website presents the breadth and depth of Planar's offerings as a leader in the display industry," said Jennifer Davis, vice president of marketing at Planar Systems. "Planar has continued that leadership by creating a website that provides responsive web design and a great user experience on any device."  
Providing users with a more complete browsing experience, Planar.com is intuitively designed and fully searchable. The website features information about distinct product benefits and the technological options available through Planar for every environment.

Planar.com also features recommended products for the specific applications that resellers, integrators, and specifiers like architects, designers, consultants, agencies, and creative content development firms need to make an informed decision.  Users are also just one click away from a product expert and have access to case studies featuring real customer installations across multiple geographies and industries.


ABOUT PLANAR
Planar Systems Inc. (NASDAQ: PLNR) is a global leader in display and digital signage technology, providing premier solutions for the world's most demanding environments. Retailers, educational institutions, government agencies, businesses, utilities and energy firms, and home theater enthusiasts all depend on Planar to provide superior performance when image experience is of the highest importance.  Planar video walls, large format LCD displays, interactive touch screen monitors and many other solutions are used by the world's leading organizations in applications ranging from digital signage to simulation and from interactive kiosks to large-scale data visualization. Founded in 1983, Planar is headquartered in Oregon, USA, with offices, manufacturing partners and customers worldwide. For more information, visit http://www.planar.com.