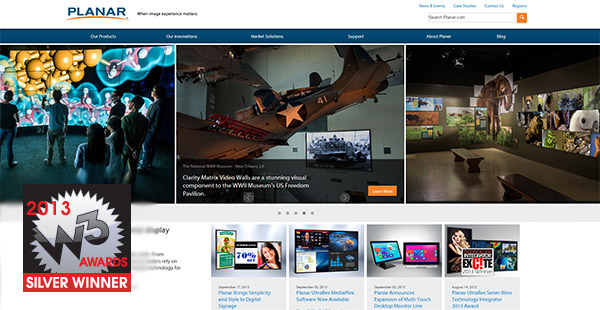 Planar Website Wins Two W3 Awards
Planar Systems has won not one, but two W³ Awards for www.planar.com.  Last year Planar partnered with ISITE Design to completely redesign the company's website, with a goal to provide responsive web design techniques for anytime, anywhere accessibility.   The fully touch-enabled Planar.com website has been redesigned using responsive web design techniques, providing optimal user experience across varying screen sizes and orientations including desktop monitors, handheld devices, smart phones, tablets and touch-enabled large format digital signage displays.
The website, which launched in February 2013, was awarded SILVER in the following W³ Award categories:
General Website Categories - Consumer Electronics
Website Features - User Experience
The W³ Awards honors creative excellence on the web and recognizes the creative and marketing professionals behind award winning sites, marketing programs and video work created for the web. This is the seventh year the W³ Awards have been held and they received over 4,000 entries. To see the full list of winners please visit the W3 Winners page.