Modular LED Displays Designed for Digital Signage
The Leyard® VersaLight™ Series is a versatile family of LED displays designed to support a wide range of indoor and outdoor applications. Leyard VersaLight Series is available in a variety of pixel pitches making it easy to design a dynamic video wall for both open spaces and space-challenged installations, providing the ultimate in video wall design creativity. Its modularity supports space-challenged applications and walls of custom shapes and sizes. No other LED video wall product can be mounted, installed and serviced in as many ways.
The Leyard VersaLight Series delivers high contrast, high brightness and high-impact visual performance at an affordable price.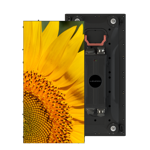 Wide Range of Pixel Pitches
The Leyard VersaLight Series is available in 2.5, 4 and 6mm pixel pitches for indoor applications. With an IP65 Protection Rating, Leyard VersaLight Series is available in 4, 6 and 8mm pixel pitches for outdoor applications.
Leyard VersaLight Mount
The Leyard VersaLight Mount, available in a 1x1 or 2x2 version, is comprised of a die-cast aluminum interlocking frame structure that supports wall or ceiling-mounted, hung or stacked installations.
With an ADA-compliant installation depth of less than four inches, the Leyard VersaLight Mount brings seamless integration into nearly any environment, along with ultimate design flexibility.