Get Hands-On With Your Content
For large, interactive displays in public spaces or collaboration environments, the Clarity® Matrix® MultiTouch Video Wall System provides an ultra-slim profile, high-impact interactive video wall. This system utilizes a touch sensor frame around the video wall edge for multiple users to interact with content through touches and gesturing.
Ultra-Slim Profile
Clarity Matrix G3 MultiTouch features an ultra-slim profile with Planar® EasyAxis™ Mounting System that enables fine adjustments for perfect panel-to-panel alignment to create a continuous touch surface.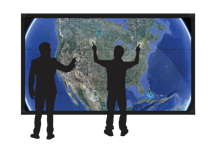 Modular Protective Touch Surface
Other implementations of touch systems for LCD video walls have required a large piece of glass in front of the LCD to protect and provide a touchable surface. This glass can be cumbersome for installation, transport, and serviceability. The modular design of the Clarity Matrix G3 MultiTouch utilizes Planar® ERO-LCD™ (Extended Ruggedness and Optics™) technology to provide a durable, near-seamless touch surface and ensuring ease of installation and serviceability, less parallax error, and superior optical properties.
The ERO Advantage
Clarity Matrix G3 MultiTouch with Planar ERO-LCD features a glass front that provides increased ruggedness and optical performance for applications in public spaces or interactive touch. The glass surface is optically-bonded to the front of the LCD to maintain the narrow bezel spacing and create a continuous surface when tiled together in a video wall.