Designed for Ultimate Visual Performance
The Clarity® Matrix® G3 LCD Video Wall System evolves the superior performance and mission-critical reliability of previous versions to deliver the ultimate LCD video wall solution. Building on the accomplishments of the award-winning Clarity Matrix architecture, Clarity Matrix G3 combines the industry's thinnest profile ultra-narrow bezel LCD with industry-leading improvements to video processing, installation, management and off-board electronics, delivering a next-generation video wall solution.
Comprehensive Family
Available in 46" and 55" sizes, Clarity Matrix G3 is available in standard and high brightness 46" and 55" models, as well as options for multi-touch interactivity and 3D technology.
Extreme Narrow Bezel
Clarity Matrix G3 utilizes cutting-edge extreme-narrow bezel LCDs that allow customers to create a near-seamless digital canvas with a tiled bezel width as small as 1.7mm.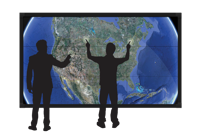 Advanced Video Wall Processing
Clarity Matrix G3 takes built-in video wall processing to a new level with the off-board Leyard® Video Controller, making it the first LCD video wall solution on the market to embed advanced video processing directly into the product.
Simplifying Installation, Service and Monitoring
Clarity Matrix G3 includes the Planar® EasyAxis™ Mounting System to deliver flawless panel-to-panel alignment. With a built-in service mode, the Planar EasyAxis mounting system provides access to any LCD panel without requiring the video wall be shut down or other individual panels removed. The new Leyard® WallDirector™ Software also significantly reduces time spent configuring, operating and monitoring complex video walls with powerfully simple tools for set-up, configuration, video manipulation, and diagnostics.
The ERO Advantage
Available as an option on Clarity Matrix G3, Planar® ERO-LCD™ (Extended Ruggedness and Optics™) technology provides an optically-bonded glass front that increases the durability and optical performance of the LCD video wall in public spaces and interactive touch environments.