With Planar's groundbreaking Set it and Forget it™ (SiFi3™) technology, you can automatically optimize the visual performance of your video wall, throughout its life. By automating critical color balancing and lamp functionality, Planar SiFi3 ensures that your video wall, regardless of its size, delivers optimized visual performance on a consistent basis, with minimum operator intervention.

A key feature of a display's visual optimization is its capacity to achieve consistent color and brightness across displays in a video wall. A video wall lacking this capability is likely to offer a compromised image quality, potentially drawing attention to a mismatch between the displays rather than the actual content. Planar SiFi3 allows operators to realize superior brightness and color balance at the touch of a button. A proprietary algorithm calculates the optimal color and brightness across the video wall and adjusts each display accordingly. Planar SiFi3 measures the light that is actually hitting the screen, ensuring the most accurate reading possible while avoiding less reliable shortcuts like calculated predictions or measurements based on lamp output. Planar SiFi3 completes this process - measuring, calculating and balancing - in about one minute, saving time, especially for larger video walls. Read all about Planar SiFi in our SiFi White Paper.
Flexibility of Control
Initialization of the Planar SiFi3 Auto Color Balance capability can be tailored to your work and environment. Manually initiate the process, schedule it to run at a prescribed time, or set it to perform after an identified event such as an automatic lamp change. Further simplifying the process, both the manual and event-driven sequences can be initiated using either an IR remote control or programmatically through the software interface.
Ability to Customize
Planar SiFi3 also enables you to balance a video wall to a particular color temperature, a capability for environments like broadcast or tailor Planar SiFi3 to account for conditions unique to your video wall environment. Manual color balance refinements tailored to specific room conditions can be retained by the system, factoring into future Planar SiFi3 initiations to save you time and ensure optimized visual performance.
This unique level of customization is made possible by a patent pending algorithm. Planar SiFi3 subtly blends color components to precisely tune each primary color and the brightness of each color. Each display is equipped with the Planar SiFi3 ACB capability, which means that you can tune each display to a common and precise blend of color and brightness for a truly balanced video wall.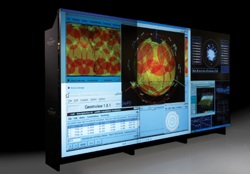 Unbalanced Wall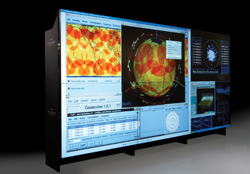 Balanced wall after Planar SiFi Calibration