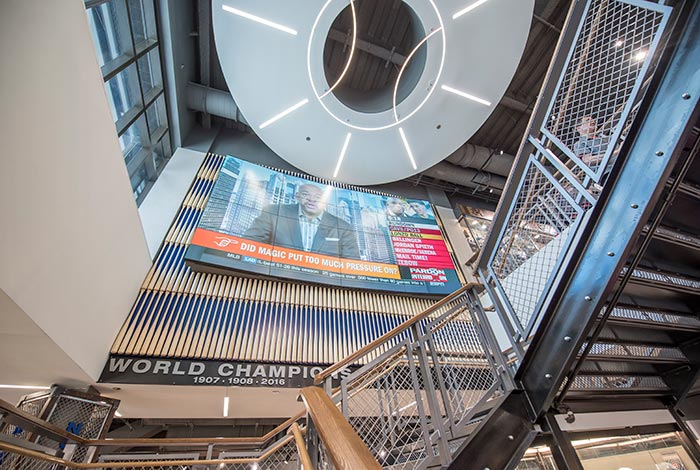 Featured Case Study: Chicago Cubs Team Store
Historic venue creates immersive experiences for fans using digital signage
Built in 1914, and inhabited by the Chicago Cubs since 1916, Wrigley Field is one of the most historic sports venues in the United States. It's the second oldest ballpark in the MLB (after Fenway Park, 2012), and was the last to have stadium lighting installed.
The Cubs also have a rich history. Founded in 1876 as the White Stockings, they became the Cubs in 1903 and became the first MLB team to win the World Series twice in 1907 and 1908. What followed, however, was the longest championship drought in all major North American sports. It's fitting, then, that the Cubs would finally win another championship in 2016, their 100th year in Wrigley Field.
To celebrate, fans started buying Cubs gear in droves, and in response, the club built a brand new flagship team store just outside the stadium. Wanting to provide a unique, immersive experience for fans, integrator Dimensional Innovations was brought in to design and integrate a number of Leyard and Planar products.
The largest installation is a four panel by four panel Clarity Matrix LCD Video Wall System that displays sports TV and live feeds of both home and away Cubs games. "The video wall can definitely attract a big crowd when games are shown," said store director Jackie Boehm. "The clarity of the video wall is impressive and it's also very easy to use."
Also featured in the store is an augmented-reality green screen photo booth experience that uses a Planar UltraRes Series 86-inch 4K LCD display to show guests 'where' they are in the famous Cubs scenes they're placing themselves into via AR. To the side of the photo booth is a kiosk that uses a 22-inch Planar LA Series touch screen display which allows fans to easily email themselves their photos. This photo booth set up processed over 2,400 images in the first week, which is a pretty crazy volume, if you think about it: that's over 300 photos per day!
See more pictures and read the full Cubs Team Store profile.