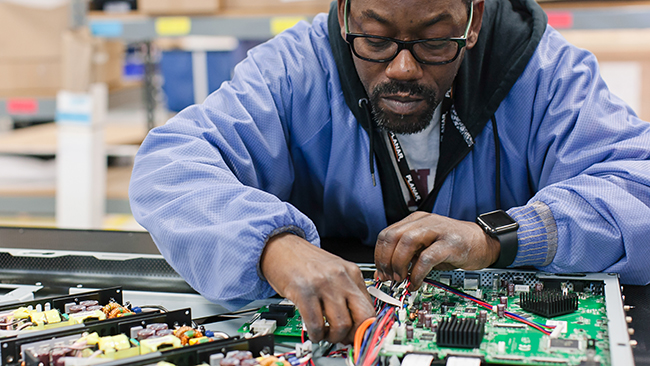 Calling the US Home
An interview with Planar's VP of Operations about AV manufacturing in the USA
For over 30 years, Planar, has continually ran US manufacturing operations in service to North American and global customers. We and other companies who are headquartered or have major operations in the United States are innovating technologies, manufacturing products, and servicing local customers.
I recently sat down with our vice president of operations, Rob Baumgartner, to talk about what makes the company USA Proud and the reasons why Planar and other brands, continue to invest here.
Describe your US operations.
We have offices and a factory in a suburb of Portland, Oregon. We have continually operated US manufacturing and factories for over 30 years and are expanding our capabilities and capacity in this location.
How do you decide what to build in the States?
We always decide where to manufacture product based on the product design, the readiness of our facilities to build the product, the proximity and needs of the customers for that product line, and overall capacity planning. For the AV products sold to US customers, a majority of them are assembled in our factory in the US, including the award-winning Clarity® Matrix® LCD video walls, Planar® DirectLight LED video walls, and Planar® UltraRes™ 4k/UHD video displays. Customers in Europe are supported by factory operations in the United States, and in France and Slovakia.
How many Americans do you employ?
The number of employees is more than 300 people in the US, across functions. The contract number is difficult to know, as we have lots of local/regional vendors, contractors, and service providers, but I would say that on any given day we have 150 or more full-time equivalent employees at our partners that work in the United States. That is probably a conservative estimate.
Why America?
We like to have local manufacturing in the USA, to support our US customers. It helps us provide shorter lead times and more customizations to our product offering. It provides an opportunity for customers to visit the factory directly, which can be critical when they are considering different technologies for their application. It provides a center for technical support and service that is close to the customer base. The same is true for our operations in the EU for those local customers.
What challenges do you face in utilizing American manufacturing?
You might think that the answer to this question would be the stereotypical myth about labor costs. There is a belief that it is always cheaper to manufacture overseas. We do not find that is a great consideration for us. There is an element of "you get what you pay for" that weighs heavily in our decision about where to manufacture products. We require and value highly trained operators and long term relationships. The many benefits of local manufacturing outweigh any extra costs that we might incur. This is especially true of our video wall and more complex offerings.
We, however, need an experienced and highly capable workforce to do what we do. We must partner to make sure the labor pool is ready to support our growth into the future. We invest in our local communities, in technology and education organizations including Business Education Compact (BEC), Oregon Museum of Science and Industry (OMSI) and Marathon Scholars, and local schools as well. We also make ourselves accessible to tour groups and for mentoring opportunities, to help encourage students to explore careers in science, technology, engineering, and math, as well as understanding the range of career options available in the market.
What is next for your US manufacturing and service operations?
We have growing demand for product and our factories are under-pressure to scale to demand while maintaining quality and service levels that we won't compromise. This is especially true in LED, where we are the market leader and continuing to grow fine pixel pitch offerings. We are adding additional square footage, personnel, and shifts in the factories to respond. And we are hiring in our technical support organization to keep pace with our growing customer base. We see this continuing into the future, even as we leverage other company-owned manufacturing sites and coordinate our supply chain globally.
For more information about Planar presence in the US, view the Planar USA Proud video.