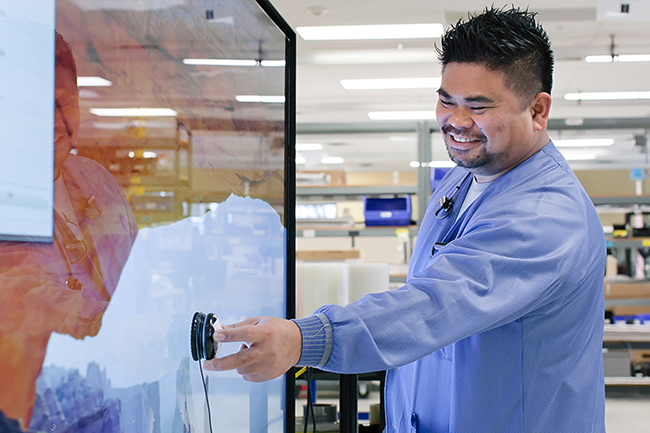 Why AV Manufacturers Build at Home
For over 30 years we've continually operated US manufacturing operations in service to our North American and global customers. With over 300 employees, vendors, and partners in the US, we're able to better manage quality control, time to market, a tight relationship with R&D, distribution, and the ability to customize swiftly to customer needs. This combination of services have contributed to our great reputation for service, innovation, and market leadership.
To learn more about our ongoing commitment to providing the best for our US customers, check out the below excerpt from Sound and Video Contractor Magazine's exclusive interview with CMO, Jennifer Davis, in their article Why AV Manufacturers Build at Home:
Describe your Made in America footprint.
Oregon. We have continually operated US manufacturing operations for over 30 years.
What percentage of your product is made in America?
"Made in America" is a very specific, technical term that is governed by a regulatory body. That is not the question I am answering here. For the AV products sold to US customers, a majority of them are assembled in our factory in the US, including the award-winning Clarity® Matrix® LCD video walls, Planar® DirectLight LED video walls, and Planar® UltraRes™ 4k/UHD video displays. Customers in Europe are supported by factory operations in the States, and in France and Slovakia.
How many Americans do you employ or contract to
We employ 300 people in the US. The contract number is difficult to know, as we have lots of local/regional vendors and service providers, but I would say that conservatively on any given day we have 150 or more full-time equivalent employees at our partners that work in the States.
Why America?
We like to have local manufacturing in the States, to support our customers who are located here. It provides more timely deliveries and shorter lead times. It provides more customization and modularity options to our product offering. It provides an opportunity for customers to visit the factory directly. It provides a center for technical support and service that is close to the customer base. The same is true for our operations in the EU for those local customers.
What advantages does your American manufacturing footprint give you?
We have not only operations and sales, but marketing, engineering, and executive management in the USA, which provides us unique and direct insight into the needs of the US customer. It builds the confidence of our customers knowing we are in their time zone, speak their language, understand their needs, and have a long history of fulfilling the needs with quality and innovation.
What challenges do you face in utilizing American manufacturing?
We strive to have an experienced and highly capable workforce and with manufacturing jobs becoming more scarce, we strive to make sure the labor pool is ready to support our growth into the future. We invest in our local communities, in technology and education charities including Business Education Compact (BEC), Oregon Museum of Science and Industry (OMSI) and Marathon Scholars. We also make ourselves accessible to tour groups and mentoring opportunities, to help encourage students to explore careers in science, technology, engineering, and math, as well as understanding the range of career options available in the market.
If you manufacture both in America and abroad, how/why did the split take shape? Are there things that work best on American soil and things that are best outsourced?
We have company-owned facilities and key manufacturing partnerships all over the world. We always decide where to manufacture product based on the product design, the readiness of various facilities to take on the product, the proximity and needs of the customers for that product line, and over all capacity planning.
Are there types of products that best lend to American manufacturing? If so, why?
Some highly complex products benefit from close proximity to our design engineering teams (which we have in our US factory with our headquarters for R&D just down the road).
For more information about Planar's presence in the US, view the Planar USA Proud Video.