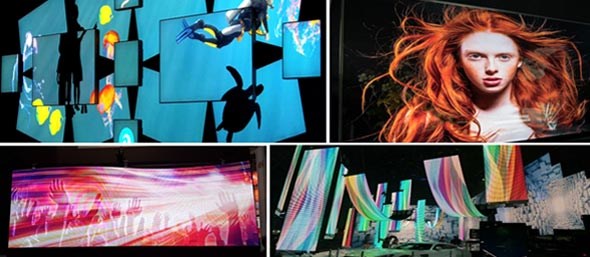 Top 4 Reasons You Should Prefer Carbon Fiber for Rental and Staging Displays
All of the Leyard® CarbonLight™ solutions incorporate the use of carbon fiber in their designs. This feature is well known in other industries for providing durable, light-weight solutions and these products are no exception. Before you check out Leyard's complete line-up of LED displays, here are 4 reasons you should be in favor of carbon fiber:
Lightweight

At nearly half the mass of other products in the market (ranging anywhere from 38%-65% lighter), the products made with carbon fiber are easy to lift and cheaper to ship. This translates into real profits for rental and staging companies wanting to lower their labor and freight expenses.

Durability

Carbon fiber is made of long, thin strands of material with a diameter less than that of a human hair (0.0002 inches or 0.010 millimeters or 5-10 micrometers each). Specifically, it is made of carbon atoms which are bonded together in microscopic crystals. <some durability aspects: high corrosion resistance, fatigue resistance.

Strength

It has an extremely high strength-to-volume ratio, making it stronger for its size than any other product on the market. This delivers real benefits to rental and staging companies who can worry less about the effects of breakage or wear and tear on their products.

Versatility

Rental and staging events range from sold out concert shows and tours to small, indoor corporate presentations. No matter the occasion, consumer demand for digital solutions is steadily on the rise. Leyard's LED product offerings cater to your needs from ceiling to floor and indoor to outdoor.
All of this brought to you by the market leader in fine pitch LED displays.
Leyard is the world leader in fine pitch LED and has been since we pioneered the category. With our CarbonLight™ series winning a Best of Show Award for Best New Rigid LED Wall Product at InfoComm 2016, you can rest easy knowing we provide innovative, award-winning solutions you can trust.