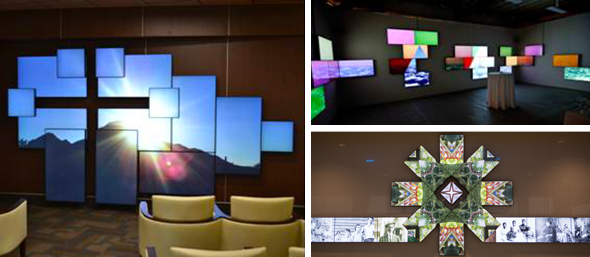 4 Key Features That Make the Installation of Planar Mosaic Unique
There are many things to consider when creating a new design. It is important that you are reflecting the values of the company, as well as finding ways to create a unique and professional setting to impress any visitors. Digital signage helps with creativity by allowing you to display original content at the touch of a button. The Planar® Mosaic® LCD architectural video walls take it a step further to present a wow factor unlike any other. Here are 4 key features that combine to set Planar Mosaic display tiles apart from the rest.
Design video walls with 3 different LCD display tiles

A feature that is unique to Planar, 3 different sized LCD tiles (22", 46", and 55") are available for designers to mix-and-match in order to create a show stopping design.

Ability to mount at any angle or position

Planar Mosaic video walls are designed to get the most out of a video wall. Whether that is overlapping display tiles, or positioning them at different angles, these LCD tiles can form unique arrays not possible with other video walls.

Extra protection for public venues

For high traffic areas, Planar® ERO™ (Extended Ruggedness and Optics™) provides an extra layer of protection and durability. It also improves contrast, clarity, and legibility while reducing glare and parallax error.

Mosaic Ensemble provides an all-in-one solution

Complete with the Mosaic Mount™, power supply modules, and the Mosaic Project Designer™ Software, the Mosaic Ensemble, included with the Planar Mosaic offering, allows for versatile positioning, front serviceability, off-board electronics, 24x7 operation, and the ability to view your content through your layout in software.
Planar Mosaic LCD video walls help unleash creativity. Don't just take our word for it, see what Everglades Technologies has to say about it.