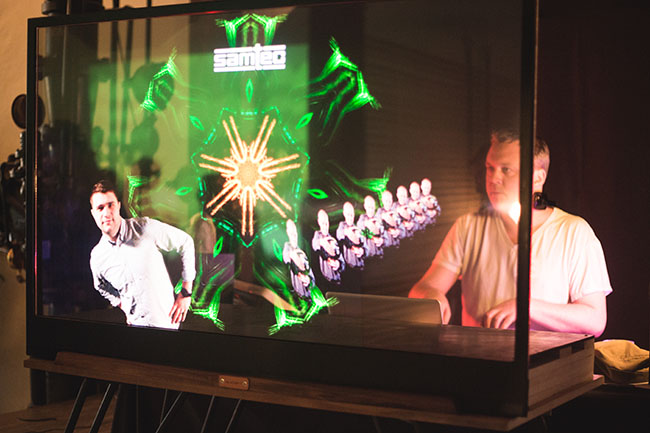 Transparent OLED Creates Contextual Halo for Branding
We had a chance to catch up with Traylor Woodall, Executive Creative Director, from FiveStone Studios after they earned top honors in the Clear Concept Awards and presented at the Digital Signage Expo 2016. We wanted to ask them about their thoughts and experience with Planar® LookThru™ OLED transparent displays and the opportunities for branding and customer experience that are enabled by this new technology.
We started the conversation by asking why the time was right for transparent displays in digital signage. "Planar's LookThru OLED technology is a powerful tool for cutting through the static," said Traylor Woodall. "We see an opportunity for brands to create a contextual halo around their products by creating a secondary layer of features, benefits for the viewer to dive deeper and engage with the brand."
When asked to describe the winning concept that they submitted for the Clear Concept Awards, Woodall was quick to respond. "It's rare to have such an innovative canvas to create on. The challenge of balancing how information on the OLED display interacts with the brand and its environment was very exciting to our team. It called for a full experiential team focusing on lighting, set design, UI and content creation. During the process, we went through a number of ideas before we settled on the Dragon Lair concept." Some of those ideas include:
Luxury Resort - An elevator experience that involved Planar LookThru OLED technology on the car itself and the elevator shaft, allowing viewers to have several layers of experience as they move between floors.
Museum Exhibit - This was a strong contender as Planar's technology could be very helpful for providing contextual halos around exhibits.
Corporate/Executive Briefing Centers - Another opportunity is adding a wow factor to executive briefing or corporate centers. Planar's Lookthru OLED Displays could be used overlooking work areas, production lines, etc.
Object/eye tracking - Track eye movement to help adjust for parallax between the display and the actual product and explore aligning features and benefits.
Now that FiveStone Studios has a Planar LookThru OLED Touch display in their lab, they are seeing even more possibilities for the technology. They've even offered a little advice for customers regarding how best to utilize Planar Lookthru OLED technology:
Think about the entire experience. The interplay between the content on the display, the product, the lighting and environment is critical. Orchestrating all these elements to elevate and support the product is key.
Remember the contextual halo. We think that featuring the product is paramount so content on the display is best served around it, not covering the product or muddying the interaction.
Consider parallax. The distance of the product from the display and its size creates parallax so properly test to make sure your content works from different angles. On a good note, Planar's Lookthru OLED display has no color or brightness fall-off when you view off-axis!
A note on our concept- these are artist renderings, not construction drawings. The final implementation would no doubt require modifications to be accurate.
Lastly, we found the transparent OLED to be fabulous because of the brightness of the content vs transparent LCD. Content really pops if bright colors and values are used. If you are going to use photographic elements with shadows, it will be important that your environment behind the glass be dark enough to fill the transparent shadows of your imagery.
Woodall explains, "We have already used our LookThru touch display to create an interactive VJ station for one of our events- the opportunities are truly endless."