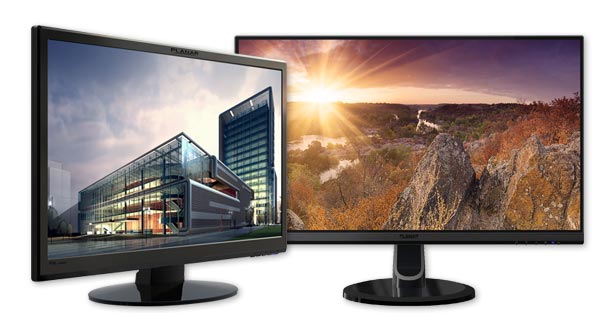 The Rise, and Continued Rise of Desktop Monitors
Remember desktop monitors? They aren't often seen as a locus of innovation or must-have technology. With the sales of desktop computers falling it might seem as if desktop displays have seen their heyday come and go.
Cindy McCullough, Planar's Desktop Monitor Product Manager, recently shared some of the amazing things that Planar is doing to not only keep desktop monitors relevant in a portable computing age, but to make them a must-have accessory.
Flexibility
As the devices that connect to monitors become more diverse, the monitors themselves need to have similar breadth. McCullough pointed out that Planar has something for everyone. "From 15 to 32 inches, with or without touch, Planar offers a model to meet your specific need," she said, "For example, both DisplayPort and HDMI video inputs, white bezel, or height-adjust stands for our desktops. And ergonomically friendly stands, USB hub or choice of multi- or single touch technology for the touch models."
While a laptop or tablet comes with the display it has, by adding an external monitor you can tailor your experience to exactly what you need.
User Focused Features
Sometimes it can feel like laptops and tablets were designed with a focus on features rather than users. They may have a lot of cool things going on, but not be very usable. Planar, and McCullough, have worked to make their desktop displays not only packed with cool features, but also usable features.
"[W]e thought through the ergonomic features of interacting with a touch monitor in an office setting," said McCullough. Resulting in surprising details like a stylus slot on the bottom of a touch monitor, the Helium stand that allows tilting up to 70-degrees for comfortable touchscreen use all day, and integration with a webcam and microphone.
The features weren't added to the monitors just to pack in more cool things, but as a direct response to the needs of users.
User Focused Service
It's not just the features on Planar's displays that are created with the user in mind. The warranty is designed around real work for real people. Most places require that you send in a defective product first and then wait to get the replacement. McCullough pointed out that, "Planar pioneered the concept of sending out a replacement unit BEFORE getting the defective unit back," so you don't have to wait. "Not to mention Planar pays shipping both ways!" she added.
Future Focused Design
Static desktop computers are becoming less and less common. But desktop displays are in more places than ever. Healthcare providers are mounting monitors on mobile carts, McCullough shared, touch monitors are being used for airport check-ins, museum information, and in retail photo kiosks. Modern computer operating systems have touch interfaces standard, and hardware is getting smaller and more ubiquitous.
The future of desktop displays is bright and, with Cindy McCullough leading, Planar will continue to be a leader.