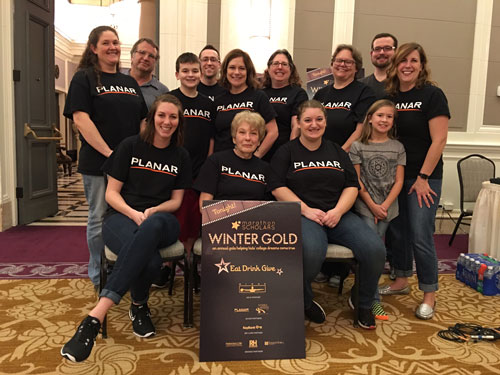 Planar Sponsors Marathon Scholars Winter Gold Gala 2016
Planar and it's employees got involved with this year's Marathon Scholars Winter Gold fundraising gala on Saturday, February 27th. Marathon Scholars is a Portland, Oregon-based non-profit that identifies high potential, low income 9 year olds and gives them their first college scholarship. Then, through a combination of mentoring and programming, sees them through to their college graduation. Telling students, who are often the first in their family to consider college, that they are university material is very powerful and the organization has graduated several classes now at 7x the average that one might expect from this "first graduate" population. 
The annual fundraising gala was a huge success, with over $100,000 raised. This was due in no small part to volunteers from Planar who made themselves available to assist with event planning, set-up, and tear-down, lending their expertise, time, and experience to a great cause. Special thanks to the volunteers who donated their time!
The organization continues to raise awareness of their program and mission and is recruiting mentors to work directly with students (from 4th grade to college seniors) to assist them with their dream of being a college graduate.  For more information about Marathon Scholars, visit www.marathonscholars.org.