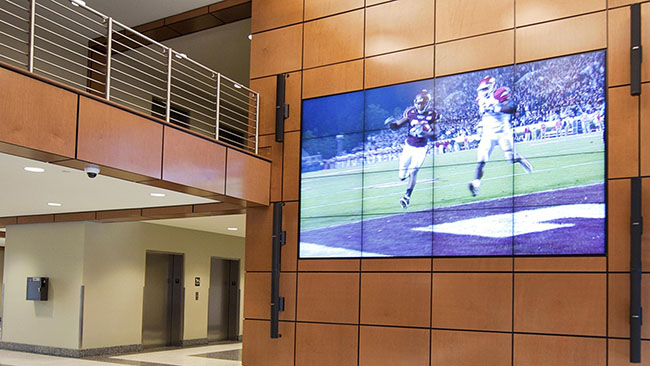 What makes Clarity Matrix different?
LCD video walls are growing in popularity. You are seeing them pop up in retail environments, corporate lobbies, college campuses, and sporting facilities. With the growth of the category, customers often ask us what makes the award-winning Clarity® Matrix® LCD video wall system different from other displays that people might consider tiling together to make video walls.
There are dozen of things that set the Matrix apart, but here are a few highlights:

1. ERO
For public venues and high-ambient light conditions, we offer our proprietary Extended Ruggedness and Optics™ (ERO) for added protection.
2. EasyAxis™ Mounting System
The industry's thinnest mounting design is front-installed and services and allows the panel to be mounted a mere 4" (the same in centimeters) off the wall to stay in compliance with the Americans with Disabilities Act (ADA).
3. Big Picture Plus Progressing
This included processing allows images and sources to be scaled across the face of the wall or in sections of the wall, without the cost and complexity of an external processor. This saves time and money on every installation.
4. Off-board Electronics
The heart of the Clarity Matrix is a distributed design that takes heat, complexity, and unreliability out from behind the LCD panels and replaces it with a centrally-located and highly reliable rack-mounted system.