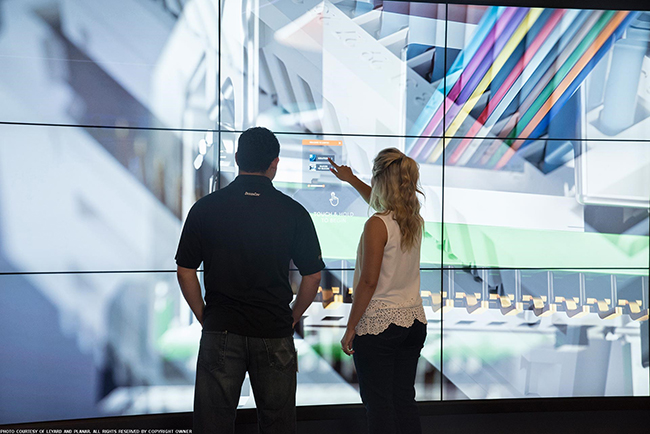 3 Ways Technology Companies Benefit from Digital Displays
Multi-touch capability allows for superior interactivity and brand activation

Fifteen 55-inch Clarity® Matrix™ LCD displays make up the 19.9 feet (6.07 meter) wide by 6.7 feet (2.04 meter) high video wall found in Samtec's renovated headquarters. Each display has 32 simultaneous touch points which allow users to zoom in and out at their leisure, giving them a better look at Samtec's product offerings (which are normally small in size).
Planar ERO provides protection against scratches, dust, and moisture. It also reduces the contrast loss you'd experience with conventional protective cover glass. These features make the displays ideal for high traffic areas and customer interactivity.

Off-board electronics for greater reliability and serviceability

Not only do the thin displays comply with the Americans with Disabilities Act (ADA), the off-board electronics design reduces heat-related failures by placing power supplies and controllers in remote locations. This design allows for better access to components during maintenance and eliminates the need to disassemble the entire video wall when serviced. This innovation was a Planar first!
For more on the Samtec installation and other case studies, visit http://www.planar.com/case-studies/.