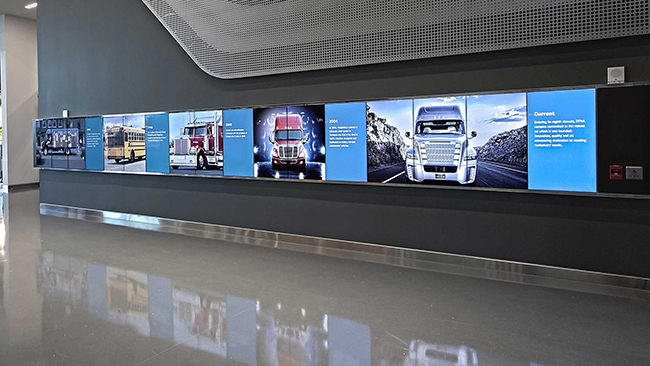 3 Ways Corporate Offices are Benefiting from Digital Signage
Digital displays have made their way into corporate offices all over the world in order to help corporations, large and small, gain a competitive edge. Throughout its 70 year operation, Daimler Trucks North America (DTNA) has made innovation a top priority and has recognized how display systems can help accomplish those goals. Here are 3 ways Daimler has benefited from incorporating Planar displays.
Celebrating company history

With the use of 59 46-inch Planar Clarity® Matrix™ Video Wall displays, Daimler has been able to showcase its legacy of success and industry leadership in a unique way. The L-shaped video wall located in the lobby shows the progression of Daimler trucks in a timeline form. It guides visitors through Daimler's impressive history, while also allowing them to gain a better understanding of the company, their innovations, and values.

Creating interactive brand experiences

The 46-inch Clarity® Matrix™ LCD video wall also make up a six-by-three (6 x 3) video wall, in an eye-catching portrait orientation, located adjacent to the lobby elevators showcasing interactive social media messaging, product content, and wall-to-wall video content. The screens are fully equipped with Planar® ERO™ (Extended Ruggedness Optics™) for extra protection against high traffic.

Wayfinding for employees and visitors

A Planar® Helium™ multi-touch monitor is used in the lobby as a building directory for employee and guest wayfinding. On the remaining eight floors, 55-inch interactive employee kiosks featuring a Planar® PS Series Touch LCD display (PS5561T) are used for wayfinding along with displaying daily messages, cafeteria menus, and weather and traffic conditions.
Daimler is one of the many corporations choosing Planar displays in their corporate design. To see more on this case study and a variety of others, go to http://casestudies.planar.com/.