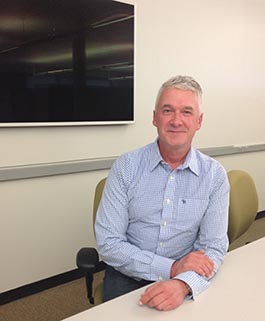 Behind the Scenes: A Conversation with Planar's CIO/VP of IT, Jeff Maurer
We are running a series of interviews with our executive team. Today we hear from Jeff Maurer, the CIO and VP of Information Technology.
Q: Jeff, how long have you been at Planar?  In the industry?
A: I've been at Planar for eight years!  It's been a fantastic experience and the time has flown.  Interesting and challenging business problems to solve; fun and passionate people; great products.  I've been in the display industry for 19 years, starting with InFocus back in the mid-90's.
Q: What are the top things you do for the company?  What is your role?
A: I support the Information Technology team as CIO/VP of IT.  It's an interesting role because, on the one hand, we sort of provide power and lights for the company in the form of business systems, networks, PC's and so forth.  Businesses cannot function without that support and there are very high expectations that these systems be always-on.  On the other hand, the IT team is in a unique position in the organization in terms of having broad visibility across functions.  That perspective helps our team identify areas for improvement, cross-functional weaknesses, and to some degree, makes us camp counselor.
Q: What do you enjoy most about your role at Planar?
A: I am fortunate in that I have a wonderful, smart team.  That makes my job easier for sure.  I also enjoy that I can contribute at many levels, as an individual contributor working on requirements or documentation, as a group lead helping to brainstorm solutions, and as a corporate leader.
I love supporting others in their personal and career growth.  It's extremely important to me to view my role as a servant-based leader, empowering my team to both solve business problems for Planar, and for them to grow as individuals.  A win/win.
Q: What is an average day like?
A: My days usually start fairly early; partly to ease the commute but more so to get a jump on my day before meetings start.  It's not unusual for me to be logging in at 6:30am with a strong cup of local coffee in hand.  My day often includes a broad mix: closing out action items, checking in to monitor projects, working with outside vendors/providers, as well as interacting with the exec team.  I try to maintain regular 1:1 time with my team, so that's definitely a notable component of my work week.  I love to work out at lunch time.  A spin class or weightlifting.  It's my guilty pleasure and helps me to sort out priorities and ease stress.
Q: What do you think Planar looks for in our employees?  What characteristics set Planar employees apart in your opinion and observation?
A: When I think of Planar employees, these attributes come to mind: smart, strong domain knowledge, flexibility, direct, and easy to work with.  That mix is rather rare in my experience.
Q: What do you think Planar customers have in common?
A: Planar customers value leading-edge display products, and they value our responsive, customer service-oriented approach.
Q: What is it about the Portland area that you think makes it a great place to live and work?
A: The Portland metro area is awesome.  Quirky.  Lots of opportunities for outdoor activities at the beach, in the gorge and in the mountains.  Great restaurants.  It's an environment I'm passionate about retaining as we grow.
Q: Planar is headquartered in Oregon, so that begs the question, how "green" are you and the company?
A: Certainly, as a hardware company, we are cognizant of green initiatives and mandates such as RoHS and Reach.  As well, we take advantage of recycling opportunities and we support Oregon commuting initiatives.  At a higher level, because our business is built around collaboration and communication, I like to think that we help enable that in ways that don't require people to travel to do so.
Q: What inspires you?
A: Grit, selflessness, humor in the face of adversity, and the capacity for beautiful design.  I strive for them in my own life, and they inspire me when I see these qualities in others.
Q: When you think of Planar's future, what excites you the most?
A: Our display technology leadership and seeing that applied to our new products, such as Planar DirectLight LED video wall systems and Planar LookThru transparent displays.