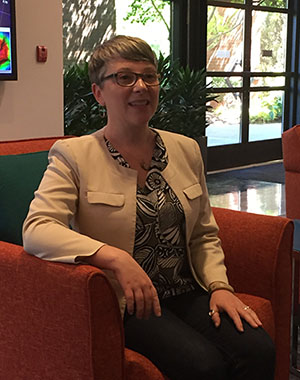 Behind the Scenes: A Conversation with Planar's VP of Research and Development, Sam Phenix
We are running a series of interviews with our executive team. Today we hear from Samantha Phenix, Planar's VP of R&D.
Q: How long have you been at Planar? In the industry?
A: I joined Planar in April of 2014, but I have worked in the display industry for most of my career. For many years I worked in R&D at Barco's Medical Imaging Division. After Barco, I worked at Dell and then at Intel, developing vertical marketing strategies for a variety of scientific applications where displaying and interpreting visual data play a huge role.
Q: What attracted you to Planar?
A: Living in Portland and working in the display industry, I kept an eye on what was happening at Planar over the years. I have always admired the company for its innovative solutions so when the opportunity arose for me to lead Planar's R&D, I was eager to join the team. There are very few companies that can claim Planar's legacy of innovation leadership in the display business. We have been in flat panel displays since 1983, video processing and video walls for over twenty years, touch monitors and flat desktop products since they were first introduced. We have been innovating transparent displays for fifteen years, 3D stereoscopic displays for ten, and optically bonding displays using our proprietary ERO™ process for over nine years.
Q: What do you enjoy most about your role at Planar?
A: Planar is a fairly small company which means my role involves a good mix of strategic and tactical activities. I enjoy the balance between zooming in so I can stay connected to our day to day work of product design and development, and zooming out to explore what's new in the technology world and how those changes could impact our future products.
Q: Planar values innovation. How is that demonstrated throughout the company?
A: Steve Jobs once said, "Innovation is not about saying yes to everything. It's about saying NO to all but the most crucial features." At Planar, one of our core strengths is the depth of our relationships with our customers and with our technology partners. Those relationships have allowed us to have the types of conversations that spark the creative spirit, inspiring us to develop products that not only hit all the right check marks, but also include those extra touches that surprise our customers and these elements have been some of the core differentiators that we have added to our products over the years.
Q: When you think of Planar's future, what excites you the most?
A: Last year in the R&D department we rolled out a new innovation program: Technology Innovation Program (TIP). It's a structured process along with a set of tools designed to support our culture of innovative thinking. We believe this investment (10% total R&D hours + approved expenses) in new ideas and concepts not only provides a foundation for future product features that will allow us to continue to differentiate Planar products, but is also key to employee engagement and satisfaction. In addition, research shows that engineers who take time away from planned design and development activities to engage in creative work are more quickly able to solve complex problems in their daily work. So moving forward, I'm excited to see how our customers react to some of the new innovations that we're currently developing in our labs.