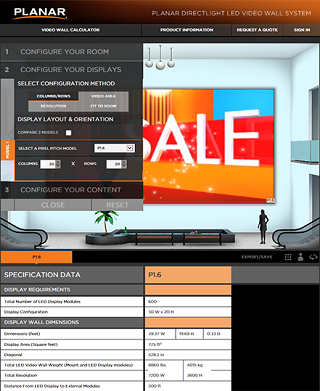 Your Vision Comes First
The most impressive video wall installations begin with a vision: a sense of purpose, an idea of a customer experience, a message to communicate, a space to fill, a visitor to impress.
See how your vision can come to life using Planar's video wall calculators.
The Planar® DirectLight™ LED Video Wall Calculator enables you to build a seamless LED video wall and download technical specifications, renderings and request a quote for your next project. It is a free, online tool that simplifies the video wall selection process by helping customers visualize and plan for their LED video wall installations even before they make their purchase.
The unique Planar DirectLight LED Video Wall Calculator allows customers considering the seamless Planar® DirectLight™ LED Video Wall System to realistically preview implementations of the solution in a variety of indoor environments including public venues, corporate lobbies, conference rooms, retail settings, and control rooms. By allowing customers to visualize their designs complete with custom content and technical specification data in advance of their purchase, the Planar DirectLight Calculator ensures the success of every project by taking the guess work out of video wall planning.
Your Vision + Our Tools = Winning Installation