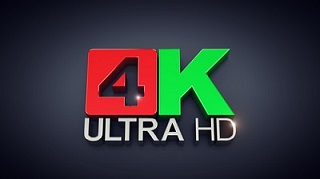 Is 4K Content Available?
It doesn't help to have a 4K display unless there's content available. And the concern is a legitimate one since the first HDTVs came out in 1998 but the switch to HD broadcasting didn't take affect for over a decade after that (June, 2009). So are things going to be the same with 4K Ultra-High Definition (UHD) content?
The good news is that the first 4K displays came out over a decade ago, so the content is catching up right now.
4K Streaming
As of the middle of 2015 the two biggest players in video streaming (Netflix and YouTube) have 4K content to stream (provided your internet connection is fast enough). Additionally Amazon's instant video service and Sony's proprietary set-top box allow the streaming (or download) of 4K video.
Sony, Netflix and Amazon are using 4K streaming to highlight their own content. So Netflix has its own programming like House of Cards, and Marco Polo streaming in 4K. Sony's service only offers movies and shows that are owned by the company – like The Amazing Spider-Man.
Since the content either had to have been filmed in 4K or converted to the higher resolution all of the streaming services are limited to more recent content (motion pictures have been filming in 4K for applications like IMAX since the early 2000s).
Keep in mind that an internet connection less than 10-15 Mb/second won't handle the huge video files for 4K content, though compression and higher-bandwidth Internet connections are both working toward making streaming 4K content easier in the near future.
4K Television
Comcast, DirecTV, and Dish have 4K UHD packages available (with the same types of limits on content). Currently the video is on-demand rather than live, due to the large size of the files. For example, the Dish Joey 4K box allows TV and movies to be downloaded to the device ahead of time, so you'll have to plan ahead for movie night. But as the cable and satellite companies upgrade their infrastructure, more and more 4K content will become available to watch on-demand and even live.  
4K Media
Instead of relying on a the cable or satellite company to get you the 4K UHD content, soon you'll be able to buy Blu-ray discs with 4K video. The Blu-ray standard was announced and given the official name: Ultra HD Blu-ray. The first prototype of an Ultra HD Blu-ray player came from Panasonic at CES in January 2015 so by the end of the year retail models should be on sale.
4K Games
If you're a fan of video games your 4K options are limited to either a high-end PC or the newly released NVIDIA SHIELD Android TV set-top box. The sheer hardware requirements for a game to play at 4K are staggering, but as computers and consoles increase in power, 4K gaming will stop being a niche market and become the standard.
Reviewers were stunned to see the difference between regular gaming and 4K. They felt as if the worlds they were seeing were filled with life-like detail – especially for open-world games (like GTA:V, Skyrim, and Witcher 3) that encourage exploration and discovering things off in the distance.
Conclusion
While there's limited content available now for 4K viewing, we're at the beginning of a onslaught of new, beautiful, ultra-high definition content. Motion pictures and movie theaters are filming and projecting in 4K already, so from here on out the new movies will be best experienced in bright, crisp 4K.
If you have the Internet speed to stream 4K or a subscription to one of the content providers that's offering on-demand video, it's a great time to upgrade all the details you've been missing.