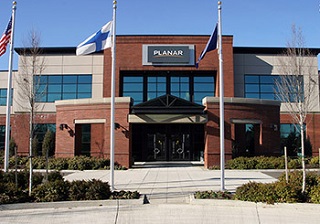 Planar and our products are different – in a good way!
It is a balance that we seek to strike each day at Planar: moving fast, experimenting and bringing our expertise and commitment to quality to bear on product innovations.
You see this kind of creativity illustrated in Planar's product lines. It was our experience in video wall solutions that lead to the award-winning design of the Clarity® Matrix™ LCD Video Wall System, with it's off-board architecture, thin mounting depth, and highly-differentiated features. Certain features might be poorly imitated, but not replicated by followers in the market, Clarity Matrix stands as an example of how experience and expertise in a field leads to new innovations never before delivered. Sure, the system approach isn't without its detractors, but the most experienced integrators can see the genius in it. It's an approach that is unique to us and has reinforced our reputation for innovation in the market.
The same creativity is seen in the Planar® DirectLight™ LED Video Wall System that Planar announced at the DSE show earlier this year. The off-board design, a variety of fine pixel pitches in an interchangeable mechanical package, and thin mounting depth which can attach directly to sheet rock are unheard of in the world of LED displays. But we knew these features (and many more) were important for video wall implementers in control rooms, board rooms, and digital signage applications. It's the kind of unique features that make a huge difference to integrators, resellers, installers, and end users who are relying on these systems.
Planar's approach to 4K displays also is indicative of this kind of creativity. It might seem unnecessary to have so many HDMI and DisplayPort inputs into a single display, but with the built-in MediaPlex capabilities in the Planar® UltraRes™, we are able to give our customers the ability to take any source (of virtually any standard resolution) full-screen or into a quadrant for multi-channel viewing. And with the free iOS app, you can control that display and its sources from a hand-held visual interface without special programming or dedicated equipment. Just the kind of thing that sets the product apart and solves real problems that customers might not have known they had before.
And when we look to future, the opportunities for creativity are strong. This year, we are getting our customers involved in the innovation process with our transparent OLED technology demonstrations. Getting feedback, asking questions, and soliciting ideas long before the product is in production is leading to a better result and we are excited to bring those innovations to market in the future.
That is the kind of creativity that has made Planar a leader in our marketplace and will continue to set us apart. Planar and our products are different – in a good way!