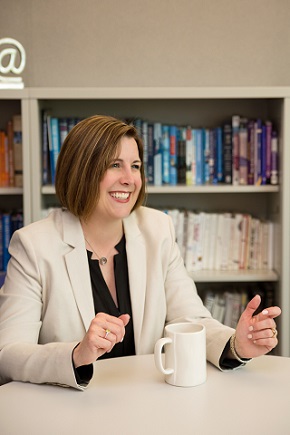 Behind the Scenes: A Conversation with Planar's VP of Marketing and Product Strategy, Jennifer Davis
We are running a series of interviews with our executive team. Today we hear from Jennifer Davis, the VP of marketing and product strategy.
Q: What are the top things you do for the company? What is your role?
A: My team is responsible for our product roadmap and strategies.  Product managers act as mini-CEO's of their product lines to ensure that they meet customer needs and have a winning value proposition that represents great return on the investments Planar makes in these products and platforms. My team is also responsible for all of our marketing communications: generating demand, building the Planar brand, and equipping our reseller partners to be successful with the line.  As examples, we just finished up another successful InfoComm trade show in June, launched a new LED video wall system, we call e Planar® DirectLight™ LED Video Wall System (which has already won four prestigious industry awards), and have rolled out a number of online tools and calculators (including the Clarity Matrix LCD Video Wall Calculator and the Planar DirectLight LED Video Wall Calculator) to make it easier to specify Planar displays. My role is to drive the innovation across all of these parts of the company and allocate resources and energy to make sure that we achieve our overall results:  in short, to keep the foot on the gas pedal and navigate the curves in the road. 
Q: What is an average day like?
A: I am sure my colleagues have noted the same, but there is hardly an average day.  Some days, I am able to walk my daughter to school, head into the office, and handle to-dos and internal meetings before heading off to a local Portland networking event in the evening (which I find a great way to stay abreast of new ideas and strategies for marketing success). Other days, I am buzzing off to the airport to meet with customers or attend AV industry events as a spokesperson, industry journalist, and product strategist. Other times, I sequester myself away at a coffee shop to produce blog content for Planar.com, Runco.com, InfoComm All Voices, the Society of Experiential Graphic Designers, and others where I am a guest blogger. And throughout, I work with an exceptionally talented team to make them and Planar successful. I have seen a lot of change in the industry since I first joined Planar in 1998, and the pace and scope of the change keeps things interesting for all of us.
Q: What is one of the most surprising things about working at Planar that others might not know?
A: I bet it would surprise a lot of people that one the leading manufacturers of commercial displays in the US is headquartered right outside Portland, Oregon and builds product here for the US market allowing us more modular product designs, more customization per order, and a more responsive organization. People might also not know that companies like InFocus, PixelWorks, Microsoft's Perceptive Pixel group, and many other brands share common DNA with Planar, who has a Tektronix spin-off in 1983.
Q: What do you think Planar looks for in our employees? What characteristics set Planar employees apart in your opinion and observation?
A: A customer told me recently that his Planar account manager is "smarter than others that call on him."  I think that is something that sets not only our sales team, but our company a part.  We are a relatively small company, in the display industry, and it shows in our accessibility.  It is not uncommon for cross-functional teams or our executive team to be working the floor at an industry trade show or visiting customers.  Our employees value that access to the market and I believe it makes us more empathetic to the needs of our customers and more innovative in our solutions.
Q: What is it about the Portland area that you think makes it a great place to live and work?
A: That is a bit of an unfair question this time of year, as the summers in Oregon are unmatched. The sun shines, the locally-grown food is delicious, there is a host of outdoor activities to enjoy, and the trees and flowers are in full bloom. If you visit in the winter, it is more gray and wet, which I don't mind this so much, actually. I grew up in central California where it is dry and hot and I see the rain as an investment in the greenery and clean drinking water that we enjoy all year round. 
Working in Portland is very rewarding. The local tech scene is diverse and supportive, ranging from large established technology brands to angel-backed start-ups.  We are all rooting for the success of other firms and organizations like the Technology Association of Oregon (TAO) are partnering to nurture the start-up scene.  Technology innovation (whether it be in the form of electronics, software, computing, and scientific advancements) plays a big role in all of the companies in the region, including Planar, Tektronix, Intel, Nike, Adidas, Columbia Sportswear, Microsoft, Elemental Technologies, Cambia Health Solutions, Moda Health, and so many more.
Q: What inspires you?
A: An elegant solution to a complex problem. A word of encouragement in a moment of stress to build teamwork. The above-and-beyond effort that employees at Planar exert every day to make our customers successful. The physical scale and stunning beauty of some of our display installations (for a dose of inspiration, I highly recommend visiting our Case Studies).
Q: When you think of Planar's future, what excites you the most
A: Planar is on the forefront of some of the most influential advancements in display technology right now. A few years ago, we were first to introduce an architectural video wall product, featuring a perfectly square video display, when we launched the Planar Mosaic.  We have taken a leading position in the emerging video wall category of fine pitch (or narrow pixel pitch) LED and the DirectLight product line and other follow-on products we expect to be a major contributor to Planar's growth in the future.  Other new technologies, like transparent OLED which we were first to demonstrate publicly as a technology demonstrator, are poised to make the science fiction vision of see-through, glass displays a reality.  Products like these are born not only out of the deep and rich expertise of our R&D team (which is substantial), but in regular market interactions with customers, architects, designers, consultants, and content development agencies which are speaking into our roadmap and inspiring us to think differently about what display technology can do.