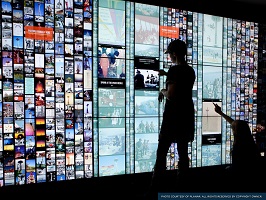 Wayfinding and Playfinding: an Interview with Leslie Wolke
We had an opportunity to spend some time with Leslie Wolke of Leslie Wolke Consulting in Austin, Texas and New York City.  She is the co-founder of the SEGD's XLab annual conference and is an independent consultant specializing in wayfinding technologies.  Her clients include the U.S. Department of Veteran Affairs, New York University Langone Medical Center, and MD Anderson Cancer Center. We asked her questions about her passionate work in wayfinding and a new trend that she has identified called "playfinding."
Q.  Leslie, thanks for chatting about trends in wayfinding today. You have used the term "playfinding." Can you explain what it is and what makes it different or similar to wayfinding?
A. I coined the term "playfinding" to describe the convergence of wayfinding (tools that help people navigate or find their way) and play — delightful ways to interact with and explore your environment. There are certain places where we need hard-working no-nonsense wayfinding tools: hospitals and highways for example. But there are also places where we are encouraged to wander, pause, and enjoy the environment — that's where playfinding can add to the overall experience.
A good example of this is the newest terminal of Tokyo's Narita Airport. The design firm covered the main concourses in a brightly-colored running track carpet. The lanes are printed with wayfinding symbols, so visitors can follow them to departing gates — a very traditional form of wayfinding cues. But it is also playfinding in the sense it celebrates Tokyo's upcoming summer Olympics in 2020 and gives a nod to the frantic pace of travel.
Q. What technology trends are enabling playfinding?
 A. Even though we all are addicted to our smartphones, perhaps the best way to convey contextual information to the largest audience of people in a given environment is by embedding interactive screens in the place itself. There's no need to download and use a new app and the information can be shared and experienced within a group setting. Picture large-scale digital displays where multiple people can engage with the content at once, like Gallery One at the Cleveland Museum of Art or the numerous examples in Planar's Case Studies portfolio.  I would call these interactions "playfinding" because they connect visitors to the place they are visiting, while guiding them on their journey.
Q. What consumer trends or behaviors make playfinding attractive?
A. Consumers want to engage in fun, memorable experiences—and if they are "instagram-worthy" or "tweet-worthy," so much the better.
Q. What business models do you see supporting playfinding (ie, sponsorship, branded experiences, educational missions funded by causes or foundations, experiences for which visitors are charged?)
A. All media requires a business model to sustain itself and interactive displays are no different. In many cases, I would argue that they are part of the infrastructure and common amenities of an environment — like benches in a lobby or wayfinding signage, so they should not be required to pay for themselves with sponsored messages. One can think of them as a digital equivalent of the "privately funded public spaces" that make cities more livable.
Q. What are three lessons you have learned about playfinding that you would encourage brands and companies to consider?
A.  There are several factors to consider in these projects:
1. Consider the "delight-factor" — how can you deliver necessary information in a more amusing way? The safety announcements on Southwest Airlines and Virgin America convey their brand messages along with all the instructions.
2. Embed surprises along the way — in low-stress settings like parks and retail centers, getting from here to there can be more like a scavenger hunt than a linear march.
3. Let your brand have some fun and your visitors will too. 
Q. Thanks for this great information, Leslie.  Where can our visitors go to get more information about playfinding?
A. Absolutely. You can visit my websites at lesliewolke.com or playfinding.com.