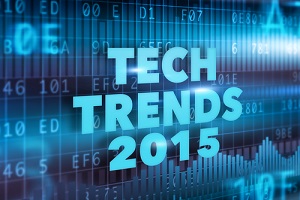 Every Business is a Digital Business
The global consulting firm, Accenture, has just published the 2015 version of its annual Technology Vision and it is interesting to see how the trends they forecast are affecting our Planar's customers today.
SMAC: Social, Mobile, Analytics, and Cloud
The move to unstructured data, direct-to-consumer connections, and extensive record-keeping throughout the transaction processes of our lives form a foundation of many of these trends. We are seeing this very strongly in the use of large format video walls and high resolution displays being deployed in monitoring centers and the use of advanced visualization tools, like 3D, to explore data sets in new ways.
The Internet of Me
There first trend is that as objects and experiences go online, creating personalized experiences. Finding ways to do this without breaching their trust is always a challenge. We have found ways to do this with the use of visualization tools that respond to customer preferences and allow them to envision their world with more video displays. For instance, using the new Planar® iOS app, users can control their Planar® UltraRes™ display to their own preferences. Similarly, tools like the Clarity® Matrix™ LCD Video Wall Calculator allow you to preview your own video content on a wall of your own design and then request a personalized quote. And specification data and mechanical drawings of the mounting structures are updated to your preferences so that you can create a personalized brochure and rendering of the wall.
Outcome Economy
As hardware is bridging data between the physical world and the digital enterprise, opening up new possibilities for collaboration and new venues for accountability. We have seen customers deploy our touchscreen displays into interactive experiences that can be measured using the same analytics set that powers websites. This allows marketers, for instance, to not only create content that appeals to them personally and reflects the brand, but to test it rigorously to ensure that it is attracting attention, engaging customers, and delivering the transactional results that justify the expense of the deployment. We have seen wonderful examples of this as brand agencies and their clients have sought to do more with experiential marketing, events, and retail experiences.
Intelligent Enterprise
The next wave of big data, will include software better capable of analyzing the streams and delivering better decision support. This data and the resulting intelligence is already requiring new visualization solutions. We have seen desktop dashboards give away to employee-facing signage that allow the whole enterprise to keep their eyes on the goals. We have seen conference rooms turning into decision rooms, where multiple data sources, multiple sites, and multiple perspectives come together on a single display or video wall for collaboration.
Workforce Reimagined
Collaboration between humans and machines have never been more sophisticated. Advances in natural interfaces is seen very clearly in our growing line of touch screen displays. We see a large attach rate of touch interactivity to our large format and video wall products and expect this trend to continue as people are not just satisfied with displays that display, but they want displays to be input devices as well, allowing new forms of data manipulation and navigation.
These, and other, trends combine to highlight the evolution of key technologies in the enterprise. In fact, Accenture goes so far as to call "every business a digital business." And from where we sit as a leading supplier of digital displays for the enterprise, we see the same.