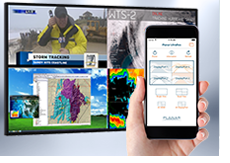 The Importance of Mobile Technology
You don't have to look further than your hand to see the importance of mobile technology in our world. It is everywhere and becoming ubiquitous. Apple announced record iPhone sales in the first quarter of this year of over 72 million units worldwide. In Q3 of 2014, Android users purchased 250,000 phones worldwide. Overall, the smartphone sales is growing double-digits each quarter and the proliferation of platforms, form factors, and features are giving consumers and professional users alike more to love about their phones and tablets.
We have seen this trend playout in our own analytics. A growing number each quarter are accessing our website and online tools with mobile devices. Back in early 2013 when we redesigned planar.com, we optimized it for a variety of platforms using the latest in responsive design. Whether you are browsing from a hand-held device, a desktop monitor, a tablet, or a large format touchscreen attached to a wall, the experience is easy to navigate and you have full access to all of the information posted (not just a subset as is common on a "mobile" site). This has proven to be a very wise investment and something about which our customers are appreciative.
In addition, we have been growing the number of sales tools and web-based resources available and have tested them extensively on mobile platforms. These include the following:
• Planar Case Studies
• Clarity® Matrix™ LCD Video Wall Calculator
• Planar Large Format LCD Selector Tool
• Planar® Mosaic™ Project Designer™ Online
Recently we launched our very first iOS native application, a control App for the Planar® UltraRes™ displays. This app gives users streamlined access to some of the most powerful features of the Planar UltraRes product, in a simple and intuitive package. An Android version is under development. You can download the iOS app now from the App Store. 
We expect mobile devices to continue to be an important trend in the technology landscape and one that we intend to leverage with the development of our web and mobile platforms over time.