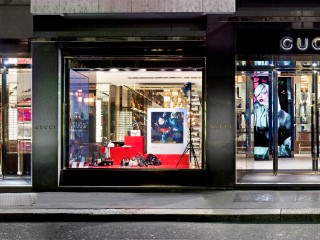 Digital Signage Trends for In-Store Retail
The progression of use of digital display in retail often begins and ends with "digital signage." Digital screens replacing other posters or graphics in the space to announce products or promotions.
But this simple usage is just the beginning of what is possible.
Planar attended the Digital Signage Expo and our top executives went on to South by Southwest Interactive to further explore how technology was being used in retail and here are a few trends that can through strongly in the session content.
1. Technology can empower the sales associate
Mobile technologies are transforming traditional cash-wrap areas, allowing associates to transact with customers throughout the retail environment. On-demand interactive content about the products and brands allow for a constant education for associates and a prop they can use in their sales conversations. Combined with liberal empowerment policies (around things like returns, etc) and the customer experience can be changed. New models for retail are further changing the definition of the associate. For instance, for the online retailer StitchFix, their stylists work part-time from home offices assisting clients with personal shopping services. Whether businesses have brick and mortar outlets or are just ecommerce plays, the empowered associate can be part of the winning formula.
2. Consumer-Centric design is at the center of smart technology deployments
Executives from eBay and Rebecca Minkoff (a women's fashion brand) both emphasized that one should never deploy technology for technology's sake. Rather, you start by envisioning and then designing and deploying the customer experience that best matches their needs. Whether the shopper be rushed and surgical in their approach, or more of a social browsing experience, there are ways for technology, both in-store, online, and now with mobile apps, to enhance or enable the experience. eBay showed some data that the highest levels of conversion and sales uplift come from shoppers who researched the brand or products ahead of time and then referenced a mobile product while shopping. The technologies don't need to compete. They work complimentarily.
3. Now is a time of experimentation
Like other digital forms of advertising, it is possible, and indeed necessary, to test campaigns and approaches. The ability to instrument the customer experience (both online with tools like Google Analytics or WebTrends) and off-line (by using traditional methods of observation or surveys, or other observational research techniques like cameras, sensors, interactive touchscreens, apps, beacons and a growing number of other tools) can allow retailers to constantly refine and improve their efforts in the in-store and out-of-store experience. Using A/B testing approaches and applying ecommerce metrics (like cart abandonment) to the in-store environment (ie, dressing room abandonment, anyone?), retails can get real insights.
One thing is at the heart of all of these trends: boldness. It requires trust to empower and equip sales associates in the way that some brands are now doing. It is provocative to think of a brand from the customer's perspective and the store as a place build to serve those customers, not the other way around. It is risky to be running in a perpetual "beta" mode with in-store technology, but that is precisely what retailers are being asked to do, in order to take full advantage of the range of innovations available today.