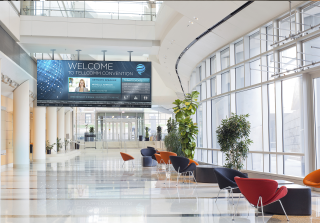 Seamless, Fine-Pitch LED Video Walls for Indoor Applications
Narrow pixel pitch LED solutions (3mm pitch and below) are evolving rapidly to become a serious option for indoor video wall applications that require higher resolution and greater image quality. These seamless fine-pitch LED video wall solutions provide exceptional visual performance, thin mounting depth, precise alignment, mission-critical reliability and adaptability to different customer uses. LED video walls can be optimized for a wide range of indoor environments including well-lit public spaces and corporate lobbies, as well as light-controlled conference rooms, auditoriums and control rooms. They are well suited for demanding 24x7 indoor applications—with an architecture designed to make installation and service faster, easier and more precise. 
Planar® DirectLight™ LED Video Wall System, which combines a proprietary, advanced design across a choice of four resolutions ranging from 1.6 to 3.1 millimeter pitch. Planar will debut the Planar DirectLight LED Video Wall System this week at the Digital Signage Expo (DSE) 2015. Planar DirectLight offers a modular, seamless LED video wall system in four narrow pixel pitches - 1.6, 1.9, 2.5 and 3.1 millimeters - providing an exceptional visual experience close up, from a distance and at wide viewing angles. With stunning, crystal-clear picture quality, flexibility to accommodate almost any indoor environment and the ability to withstand the most rigorous, 24x7 operations, this unique family of video walls represents the next wave in the fast-growing direct-view LED market.  
The revolutionary Planar® EasyAlign™ Mounting System enables less than a 4" depth when mounted, making it ideal for space-constrained installations and eliminating the need for rear access space. Its six-axis of adjustment combined with Planar® DirectLight™ Control Software allows for ultra-fine tune image calibration, delivering stunning, uniform images. With Planar DirectLight LED video walls, scale your design to fit any size wall or column in portrait, landscape, square or concave configurations. Planar DirectLight LED video walls feature a unique off-board distributed architecture that delivers 24x7 reliability and improves serviceability by removing heat, complexity and potential points of failure from behind the video wall and conveniently co-locates them with other rack mounted equipment for improved accessibility.
Visit Planar at the Digital Signage Expo 2015 (Booth #1018) for a demonstration of Planar DirectLight LED Video Wall System.