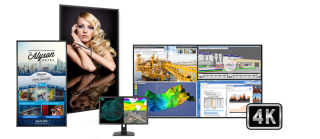 4K Displays for Commercial Applications
There has been a growing interest in 4K entertainment in the home with the release of Dish Networks' 4K player and a host of development in ultra high definition content streaming. But 4K isn't just for television. In fact, commercial applications for the technology are outpacing adoption in residential applications and there are a number of reasons why.
24x7: Commercial applications require long duty cycles and reliability that one can not find in consumer-grade equipment designed for in-home use. A few hours a day is very different than all day, every day usage models and products like the Planar® UltraRes™ Series and Planar® EP Series 4K Series are built to the task.
Front-Servicability: In public venues and mission critical applications, the display can not be down. As the size of the displays get bigger (up to 98" diagonal or larger for video walls), they must be serviceable without having to take the display off the way, risking damage and incurring expense and more downtime. Planar's products and our unique mounting solutions, like the EasyAccess Mount and the Planar Profile mount, allow for front serviceability.
ADA-Compliance: Everyone likes a thin display, but some customers are legally required to install them. If you are a public building in the US or a government office, you are subject to the Americans with Disabilities Act, which requires that the mounting depth of "protruding objects" (like displays hung on walls) need to be less than 4" off the wall. Planar's mounting solutions and unique architectures, like you find in the Clarity® Matrix™ with G2 Architecture, make this slim mounting depth possible.
4K at 60 Hz: It is critical that in the pursuit of resolution, we don't compromise refresh rate (a common trade-off when working within the constraints of bandwidth). The Planar UltraRes product can take in up to 8 sources, all capable of full 4k, and can take in sources that are running at a full frame rate of 60 Hz. This leads to smooth motion video and fast response to cursor moves.
Multi-Source Viewing, Switching, and Scaling: The ability to hook up multiple sources, switch between them easily (via a remote, or software, a control system like Crestron or AMX, or even an iOS phone or tablet app), and scale any of them to the full screen or portions of the screen is critical in large displays and video walls. 4k screens have the resolution to allow for the simultaneous display of four (4) full HD signals, but televisions don't have that functionality. The Planar® UltraRes™ App takes this further with a free iOS to allow for source switching and scaling into quadrants of the display and it comes standard with the purchase of the display.
High Pixel Density for Close-up Viewing: Viewers need only to stand 5 or 6 feet back from a Planar UltraRes 84" display until they can no longer distinguish the individual pixels. On smaller displays like the 58" or 65"EP-Series, the distance is even closer! As displays get bigger and conference rooms get smaller, having this pixel density is required.
Interactivity in 4K: Getting closer to the display is also a side-effect of one of the biggest trends in digital display today and that is interactivity. Touchscreen technologies are turning displays into input devices. Planar offers touchscreens interactivity across products ranging from 15" to 98" and then on video walls up to 300".
For all of the reasons above, the time for 4K in commercial applications is now!