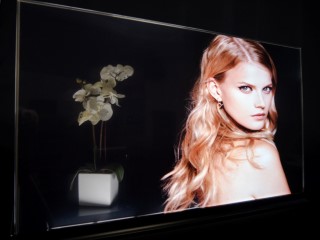 Planar Transparent OLED Technology at DSE 2015
You are invited to the Digital Signage Expo in Las Vegas on March 11th and 12th.  Free exhibit passes are available at www.planar.com/events.  In addition to the award-winning Clarity® Matrix™ LCD video wall system and Planar® UltraRes™ 4K displays, you will also see the Planar Transparent OLED technology demonstration and more!
How does the popular Planar® LookThru™ Transparent LCD display compare to the emissive Planar® transparent OLED demonstrator that Planar will show at Digital Signage Expo this Spring?
| | | |
| --- | --- | --- |
|   | | |
| Shipping Status | Currently available.  Follow the links | Exact production plans unknown. |
| Pricing and quoting | The product is on the price list today and available for an immediate quote for new opportunities. | No pricing is available.  It is expected to more expensive than standard and transparent LCD options. |
| Diagonal Size Planar is Showing | 32" | 55" |
| Lighting Type | LCD displays require some sort of backlighting.  For LookThru it requires lit box or cavity behind the display to achieve display clarity and color performance. | No light box required.  Can be free-standing in the space and is self-emitting (the glass itself lights up).  |
| Content Design | Anything white (or light/pastel) in the content is clear.  Anything black or highly saturated is opaque and obscures the screen surface. | Anything black (or highly saturated) is clear.  Anything light, bright, or white is opaque and glows from the screen surface.  The clear state has a smoky gray tint. |
| Readability/Clarity Through the Display | Fine text is difficult to read.  Objects are more clear, they closer they are to the front glass of the display box.  Objects further away appear fuzzy or "dreamy." | Objects close to the back of the display and far away are very readable.  Small fonts can be read clearly.  Objects dozens of feet or meters away can be seen clearly. |
For immediate transparent opportunities, see the Planar LookThru which is available as both a display box and an open-frame integration kit for custom enclosure design.