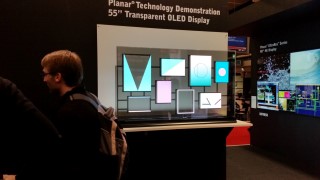 Planar Transparent OLED Technology Demonstrator Makes a Splash at ISE
Amsterdam let up with Planar's 55" transparent OLED display.  The crowd was wowed with content by Second Story, a Sapient Nitro company, that triggered off visitor movement to show off the color, viewing angles, and transparency of this new technology. Planar has been innovating in transparent displays for decades.  Our current solution is the Planar® LookThru™ Transparent LCD display and we just announced our intention to show a new transparent technology, OLED, at the ISE trade event.  
As we look towards the future and the availability of a transparent OLED offering from Planar, we see a variety of use cases being made possible using this technology.  Like the following:
Museum exhibits:  Display background information, video, or explanatory text about artifacts behind the glass (without risking light exposure to delicate or priceless artifacts as might occur in a bright display box).
Retail merchandising:  Put transparent displays alongside products for sale in a retail environment for a richer customer experience.   The merchandise itself is not unduly obscured by the display and remains readable and accessible.
Assisted shopping applications:  Use the two-way nature of Planar's transparent OLED technology to present information to a potential buyer, triggered by a sales associate behind the display.  Merchandise itself could trigger content using camera sensors or tokens.
Wayfinding: Use the display in a public space to locate shops, train schedules, or restaurant menus, while maintaining visibility throughout the space, which is an important safety consideration.
Meeting space:  Use the glass panels or windows that might surround a conference room or informal meeting space in a corporate environment as a display surface.  For presentation within the space or to display meeting information outside the space.
Video art applications:  Create interactive or dynamic art pieces using video, motion graphics, and other materials.
For more information about Planar's transparent OLED technology demonstrator, download the eBook.